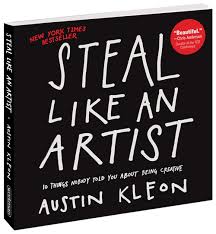 A Dose of Inspiration
I love a good book recommendation, though my bailiwick is usually fiction. But a friend* recently suggested I pick up the New York Times best seller, "Steal Like An Artist: 10 Things Nobody Told You About Being Creative" by Austin Kleon.
It's a tiny book, easy to read and filled with pictures, illustrations, quotations and little gems like the one below.  I went through it in about an hour. The experience made me smile, got the ideas percolating and inspired me to dive back into the creative process.
The premise is simple – there are no original ideas. All the world's greats – be they writers, musicians, entrepreneurs, painters or creators of any kind – "stole" ideas and built upon the creative groundwork laid down by those who came before them.  And by stealing, Kleon doesn't mean plagiarizing but rather, embracing influence.   
"The only art I'll ever study is stuff I can steal from." – David Bowie
One of my favourite points is don't wait until you know who you are to get started. When you're trying to decide what to do with your life, sitting and simply thinking about it rarely produces that lightening bolt "ah ha" moment.  You need to go do stuff. Anything!  Wander down various avenues, pursue your hobbies, attempt and fail.  It all starts with a single step, in any direction. 
Kleon also includes some valuable tips about fostering creativity in your own home, sharing your ideas and reminds us that inspiration flourish in the downtimes, when you're working on or doing something totally unrelated.  My best ideas haven't come when I'm sitting in front of my computer or checking my phone. They come when I'm walking my dog or in the middle of the night.
If you're looking for a dose of inspiration, no matter your field, "Steal Like and Artist" may give you the kick in the pants that you need.  I'll end with my favourite quote from the book: 
 "Don't worry about people stealing your ideas. If your ideas are any good, you'll have to ram them down people's throats." – Howard Aiken.
 *Children's author and illustrator, Lee Edward Fodi. Parents, be sure to check his books out, particularly the action packed and inventive Kendra Kandlestar series