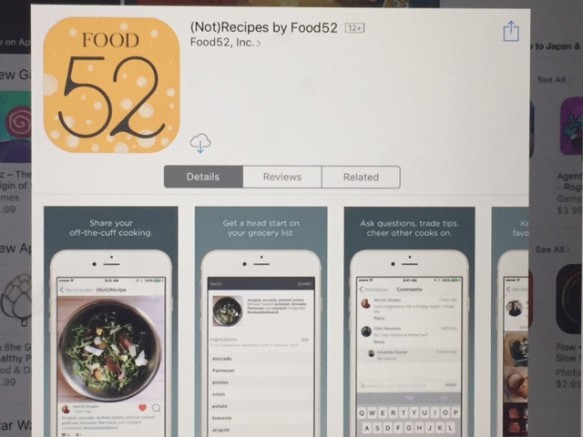 Cool New App
I cherish my library of cookbooks and refer to them often for ideas. But the problem with books is they don't change. I think I've memorized half of my grease splattered collection and am now moving a lot of it into storage. I will always love the books and seek out new ones, but lately I'm hooked on a the new app from the folks at Food52.
The brilliance of it is that it's about inspiration, not recipes. Because for the most part that's the way I cook – a little of this and a little of that, as I'm always challenging myself to use my imagination along with whatever's in the fridge. On the app you're joining a community of like minded food lovers and gaining access to everyone's ideas. I don't always want the latest recipe from a Michelin starred chef. Regular home cooks are so often brilliant in the kitchen and on the app you'll get access to an endless stream of easy, creative dishes.
It looks a lot like an Instagram feed, where you can post your own creations along with cooking guidance, and scroll through, "like" and comment on other users' dish ideas. I've started referring to it as I'm wandering the aisles at the grocery store, trying to decide what to make my friends for dinner.
If you know a little bit about cooking, you'll appreciate the non-recipe element to it. And if you don't know much about cooking but wish you did, it's a great place to hang out. If it's one thing I've learned, to become a better cook one has to chuck the recipe and learn by doing. This app will help take you to the next level. I'm currently hooked on the "avocado" stream, because I will never tire of finding new twists on avocado toast. (I just found one made with Marmite! Not so sure about that.)
So check it out. (And more importantly, please share any great dish ideas you come across.)
Enjoy!