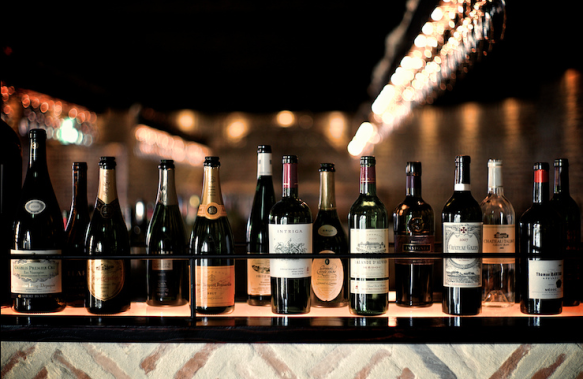 Decoding the Wine List
A lot of people get flummoxed by a wine list. Getting stuck with choosing the wine at a restaurant when you're no expert can be stressful, especially when you're trying to impress or just don't want to disappoint. It's as though the choice we're about to make is some kind of comment on our worldliness (or lack thereof).
Given that the celebratory season is upon us, I thought it might be time for a refresher on how to decode that wine list.  Because even if it's hundreds of bottles long, it's not as complicated as you may fear as long as you follow a few simple guidelines:
* Learn the basic regions and what the best (or good) vintages are in each. Vintage is the year the grapes were picked. Of course the best vintage changes from region to region as it's mostly weather dependent. To get you started, remember:
    – In France's Loire Valley (Burgundy region) look for white wines between 2008 and 2010
    – In the French region of Bordeaux, '05, '09 and '10 are considered great vintages. '06, '07 and '08 are considered "good". '11, '12 and '13 are thought to be not as good.
    – Barberas from Italy are good going all the way back to 2004
    – German whites are good all the way back to 2001
    – California's Napa region is known for cabernet sauvignion.  2007 is considered the "perfect" vintage and 2009 has wide appeal.
If you know a few good years and regions you can ignore who the wine maker is.  Prices will be better from a lesser known producer.
*  Know what the different regions of the world are known for:
    – Australia: big, bold and ripe
    – Germany: dry whites
    – Italy: known for diversity in wines.  Red varieties from Tuscany are full bodied and often crowd pleasers.
    – France: Home of the most famous wines in the world.
    
* Ask for help:  Sommeliers love to discuss their favourite subject and if it's one thing I've learned in life is its better to ask lots of questions rather then pretend to have the answers.  Communicate your parameters (price point, colour and what you'll be eating).  Many sommeliers also keep a secret stash and if you've won them over they just might be willing to open it up to you.
* Learn the basics:  Red vs white; oaky vs unoaked; fat vs lean; sweet vs dry.  Then ignore all the flowery language describing notes of lavender and hints of chocolate.
* If you're ordering for a group of people remember that Riesling and Zinfandel are two of the world's most versatile grapes.
* Look for "value regions" and 2nd labels:  Value regions are those that produce great wines, but don't yet have the widespread reputation for doing so and as a result the wines are cheaper.  Spain, Argentina and Chile are three examples.  Or look for wines that come from just outside of a well known region as the soil, grapes and weather will be very similar.  2nd labels are wines that are produced by established wine makers for a lower price tag (just like Karl Lagerfeld producing secondary lines for H&M or Target)
* Seek out the less familiar. This is the best piece of advice I ever got (from sommelier Neil Ingram at Vancouver's Boneta restaurant). If you are dining at a fine establishment with a daunting wine list, find the wine that stands out from the crowd. Like the only wine available from some area less known for its wine. You can bet the sommelier put it on the list for a reason and it will in all likelihood be of good value. I have never gone wrong with this approach.
Before you accept the bottle check that the vintage matches what's printed on the list (oftentimes restaurants restock with a different vintage and don't update the menu) and be sure to smell the empty glass.  You don't want stinky dish soap ruining all that time you spent considering what to drink.
And finally, remember we're only talking about wine here.  Your selection is not a comment on your overall greatness.  If you choose something you and your friends dislike, drink it anyway, have a laugh and order vodka.
Bottoms up!
[Top image by mydaysphoto]