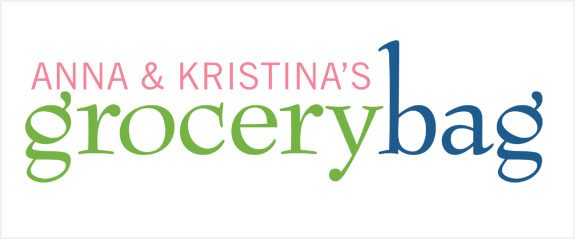 Bite Me
By Julie Albert and Lisa Gnat
Season 3 Episode 48
Written by two sisters, "Bite Me" is full of cheeky titles, pop culture lists, and trivia tidbits. Oh, and some comfort food recipes too, ranging from meatloaf to pasta to chocolate cake. Will this cookbook live up to its claims and earn the A & K Stamp of Approval?

Anna says:
I really wanted to like this book. The way it's presented and put together is very creative and fun. I especially liked some of the photographs — entertaining and different.

In addition to the recipes we made on our big cook day, I made several at home as part of the overall testing of this book. I made chocolate chunk banana bread, cheesecake, miso cod, and a mint pea puree. I would say that the quality of those dishes ranged from pretty good (banana bread) to terrible (miso cod). And the cheesecake had more sugar in it than I think I've ever used in one dish. It was insane, and it weighed about a hundred pounds.

For the most part, the recipes in this book are focused on comfort food. A lot of high fat, high sugar ingredients, which is what comfort food is all about. Everyone loves to indulge. But they also call for ingredients with lots of preservatives and pre-made sauces. Though it does make some of the recipes easier, I can live without that kind of stuff.

I did like some of the efforts to be cheeky and different, including the very title of the book, "Bite me", and the chapter on desserts, "Fork Me". But the book includes lots of pop culture trivia tips and little blurbs about food-related movies and songs. Do I need that in my cookbook? I'm not so sure. 

I like that the book includes a top ten list of must-have kitchen gadgets. For the most part I agreed with everything on the list. Things like kitchen shears, a meat thermometer, a silicone spatula, etc. The book also includes a top ten list of dust collector kitchen gadgets. And again, I agreed with most of them. No one needs a banana hanger.

The one dust collector I didn't agree with is the mini whisk. I think it's useful and it doesn't take up much drawer space. Plus, it's inexpensive.

I didn't like the way the text for the recipes was laid out. It might not sound like a big deal, but when recipes are printed as one giant continuous paragraph (instead of broken up into different sections or steps), it's easy to lose your place, and therefore, it's easy to make mistakes.

The amounts were off in some recipes. Way too much sauce for the halibut, too much gravy for the meatloaf, and too many sugared pecans for the salad. But for the Pasta Puntanesca, which was supposed to serve six, it only called for ¾ lb of pasta, which isn't enough. 

I did like the cheeky and playful approach to cooking in Bite Me, but some of the amounts were just totally off, and I didn't like that so many recipes called for so much sugar and processed foods. For those reasons, this cookbook does not earn my stamp of approval.

Kristina says:
When I first got this book, I was kind of perplexed. It's pretty quirky, and while the photographs are unique, I'm not sure they make the food look appetizing. Like the dramatic red beet risotto with a little skier skiing down some pink rice. I don't really want to eat that.

In addition to our cook day recipes, I also made banana bread with chocolate chunks, Julie's Tabbouleh, a white bean spread with asiago crackers, a Moroccan chicken dish, and a salad with strawberries and sugared almonds. They were all okay. I was pretty proud of myself that I actually made crackers. Who does that?

I do like a cookbook that has pictures, but I want it to be pictures of the food I'm going to make. And yes there are a lot of interesting photographs of some of the recipes, but some are just really random, artsy pictures. And that doesn't make me want to cook or eat or go anywhere near a kitchen. Some of my favorite cookbooks contain beautiful photographs of food. Those pictures inspire me to cook. The pictures in Bite Me are fun, but I don't feel particularly hungry when I see them.

There were some problems with the indexing of the book, not the fault of the authors, but of the publisher. Another issue I have with this book is that it's supposed to be easy, fun cooking. But the ingredients lists are so long, they're kind of a turn-off, expensive to buy, and time consuming to put together. And a lot of these recipes have a lot of processed ingredients like ketchup and mayonnaise, really heavy, fatty, sugary kind of stuff.

I think if you want to write a fun, wacky cookbook, go for it. But the recipes better deliver because the best, quirkiest title won't save a bad dish. While I did make some things that tasted okay, I found many of the recipes had too many ingredients, were too labour-intensive, had too many strange unnecessary steps, and the amounts were often off. This cookbook does not earn my stamp of approval.
Did this cookbook earn the A&K Stamp of Approval?
No. Both of us found too many problems with the recipes overall. It's a fun read, but not a fun or stomach-satisfying day in the kitchen.
Our Guest Chef
Sam Talbot is Executive Chef of the Mondrian SoHo in New York City (opens February 2011). He was also a Top Chef finalist in season 2.

At the forefront of the 'integrative kitchen' movement, which breaks down the walls between the way we eat and the way we live, Sam is one of America's most original chefs today. Sam's approach to cooking is to understand how all these questions – and their answers – interconnect.

Wherever he goes, Sam's cooking is always a reflection of his insistence on fresh, healthy ingredients. That is part and parcel of who he is as a diabetic – one who also volunteers extensively with the Juvenile Diabetes Research Foundation and uses his new-found celebrity to increase awareness of the disease and to raise money to fight it. Read more at www.samtalbot.com.

Chef's Beverage

To enjoy with our menu, Chef Sam brought a 2008 Castle Rock Pinot Noir Willamette Valley ($29.99 / 750 ml). Some wines like this one from Oregon are grown in the same weather conditions as the pricier burgundys from France. If you like an old world taste, these wines are a good, less expensive, new world option.

Chef's Recipe

After taste-testing our menu, Chef Talbot left us with his signature lobster roll recipe to save our appetites.
Related Links