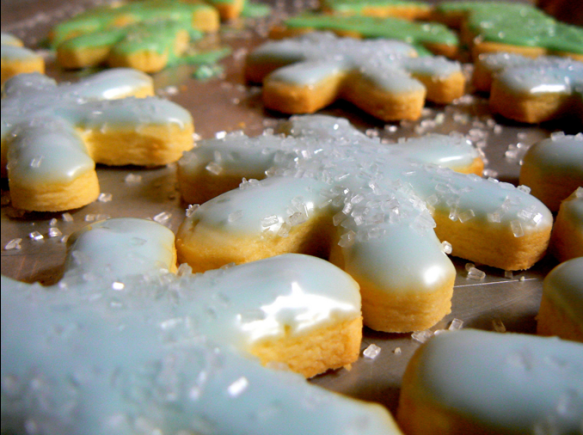 Half Baked
I got invited to join a holiday cookie exchange. And while I love to spend time in the kitchen, I'll be taking a pass on this one.
The idea behind a cookie exchange is that everyone makes several dozen of their favourite holiday cookie recipe.  Then you all get together, sample each other's wares, have some wine and swap cookies so everyone goes home with lots of different types to give away and serve during the holidays.  Plus you get a fistful of new recipes.  It's supposed to be fun and it's supposed to save time.  Sounds like a good idea, right?  
In theory, it is.  But in practise, like so many other domestic trends that breed competition, the cookie exchange may have become more of a bake 'n bitch session of one uppmanship laced with senseless rules and regulations.  Where did the fun go?
The rules that came with my invitation stated that I was to submit my recipe in advance, "for approval". What if there were two recipes that were similar?!  Or, horrors, THE SAME?!! Come now ladies, that would never do!
I was also told "no peanuts" (possible allergies), "no drop cookies" (too easy), "no plain shortbread" (also too easy) and "no bars" (why, I have no idea.  I guess a bar is not a cookie.  I wonder if there's a group out there doing Christmas bar exchanges.  I bet that's a cooler crowd).  And in bold type across the bottom of the invitation, "STORE BOUGHT COOKIES ARE STRICTLY PROHIBITED."  
Oh, and there would be a competition for the best cookie.  That was the final straw.
What's wrong with providing a cookie that came from a simple recipe? What cookie lover on this earth doesn't love shortbread?  My boyfriend's father makes the world's best shortbread and I was planning on begging him for the recipe.  Your loss, cookie swap cops.  And why punish bars and not, say, sandwich cookies? The peanut allergy I get, IF  it is known one of the contributors has a peanut problem.  And when it comes to store bought cookies, I say bring 'em on.   I bet the cookies from my favourite patisserie would be far better then anything I could bake and wouldn't everyone be happy to have some to put on their table this holiday season?  Oh but wait, that wouldn't be fair!  That Stepford wife from down the street stayed up all night perfecting her peppermint pinwheels and she wants to win!
So as avid bakers everywhere are gathering with their cookie wares I urge you to lighten up.  Drop the contest element, who cares if there are duplicates, serve lots of refreshments and eat some cookies.  Heck, I'd be grateful to receive a box of Tim Tams.  So if there are any cookie swap convicts out there who want to send their rejected store bought, drop, bar, peanut laden and best of all shortbread, please know all will be accepted and consumed with gratitude and glee.
Happy Black Friday and enjoy the holiday season!