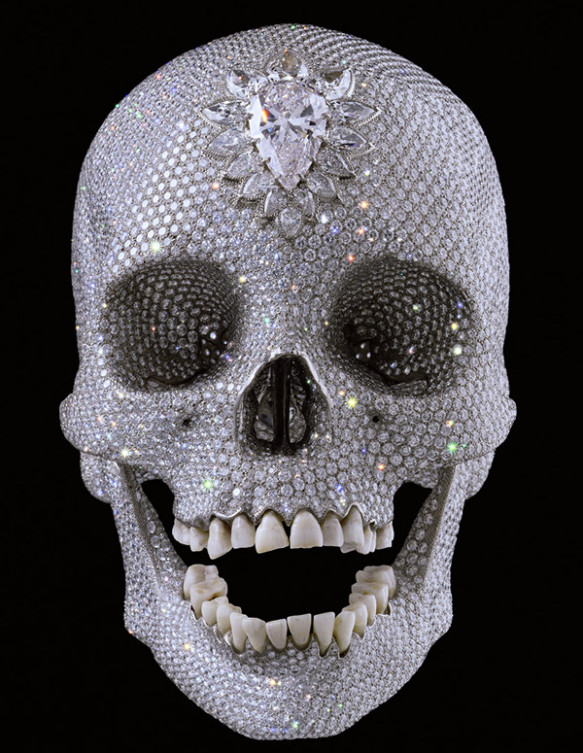 Heady Fashion Sense
It's the day of the dead. The day to celebrate all that is scary and ghoulish. And best of all you get to dress the part. Of course, there's one key element to Halloween that can be part of your lifestyle aesthetic all year long.
It's the skull. The skullcap or skeleton of a human head. Or the likeness of it anyway. Its image on clothing isn't just a fashion trend, it's a design staple across all fashion, art, decor and even food. (Skull shaped noodles anyone?)
In art the skull was famously glorified by Damien Hirst's 2007 diamond encrusted sculpture For The Love of God (above) and has been imitated (using crystals, glass or or plastic) many times over. In fashion it became uber popular several years ago with the late Alexander McQueen's coveted skull scarves.
Magazine editors will declare skull designs officially "in" or "out" with cyclical regularity, but in truth the skull is as classic as leopard print and plaid. And that means it never goes out of style.  You just don't want to overdo it of course.  And maybe don't wear your skull top to church.
The key to wearing this design well is to pair it with softness. That is, a skull print (hard) on a soft and luscious fabric like silk or cashmere (soft). Rebecca Bree, owner of the Vancouver boutique by the same name, describes it this way, "For me, the skull motif works well when it's worn in a subtle way. A print on a scarf, a piece of jewelry or even a clutch."
Perhaps it's because I was born on Halloween or it may be that it so eloquently speaks to my inner tough-chick-rebellious-side but the skull design is one I've always loved and never seem to tire of, regardless of how ubiquitous it seems to become.
There are key pieces I've acquired over the years that I will treasure forever. Like my black skull sculpture that I picked up while shooting in Mexico. It cost about 5 pesos. I love it and it reminds me of an exciting trip. And then there's my McQueen scarf, which I plan to be buried in. It cost more than 5 pesos.
It Girl Alexa Chung nailed it when she wore a skull cameo necklace on the cover of British Vogue a couple of years ago. A cameo is the very picture of a conservative piece of jewelry. When paired with the edgy skull motif it's perfect because it's unexpected. (I tried for months to find a similar necklace, but the search continues. Did I mention it's my birthday?)
"Skulls definitely add edge to the look" says Bree, "To keep it subtle I recommend incorporating more feminine touches to the outfit. Pastel fabrics or floral prints work well. Mixing feminine and masculine pieces is one of my favourite things to do. Wearing a tough biker jacket with a pretty dress is such a great look. I love the juxtaposition of feminine and masculine. It's really the same concept when wearing a skull motif or detail. You want to keep it subtle and effortless so wear it with something a bit girly. Then your whole look is making a statement, not just one piece of the outfit."