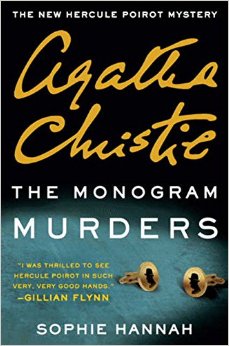 Hercule Poirot On The Case… Again!
His "little grey cells" are back at work. 38 years after her death, Agatha Christie's family has authorized a new novel featuring one of the literary world's most memorable characters, Hercule Poirot.
The little Belgian detective is in deft hands. "The Monogram Murders," by acclaimed writer Sophie Hannah, transports you back not only to 1920s London, but to Christie's distinct world, where no one can be trusted and few things are as they seem.
Hannah creates a classic "locked room" mystery, with not one but three interrelated murders, a full deck of suspicious characters and the standard gathering of suspects for the finale denouement for which Christie became so well known.
For those of you not familiar with the mustached detective (Millennial perhaps?) think Sherlock Holmes with a Belgian accent and a soupçon of social graces.
But you can forget DNA, fingerprint or Luminol to help solve the case. Poirot is in need of little else than his powers of observations and gargantuan intellect to solve even the most convoluted of cases.  And trust me, this one fits that bill.
One thing missing here is Poirot's long-suffering sidekick, Hastings, replaced here by a younger and less experienced detective Edward Catchpool. The young Scotland Yarder seems at least ten steps behind Poirot, who would might work better with a sharper foil.  But perhaps Hannah has created him as the reader's proxy: if Catchpool is in the dark, don't feel bad if you are too.
A few long-winded arguments about who knew what when detract from the storyline and I found the plot, like many of Christe's own, a little too far fetched.  Then again, Jack Reacher's escapades are also reaching epically unbelievable proportions.  (And TV's Scandal? CREDULITY OFFICIALLY STRAINED!)
But when I read mystery novels (or watching nighttime soaps) believability isn't at the top of my list of essential elements.  I prefer a world where all questions are answered and, victims aside, everything works out in the end.  Thus I welcomed The Monogram Murders as I would an old friend, one who is perhaps a bit predictable, wears a natty old cardigan and comes in for a warm cup of tea.