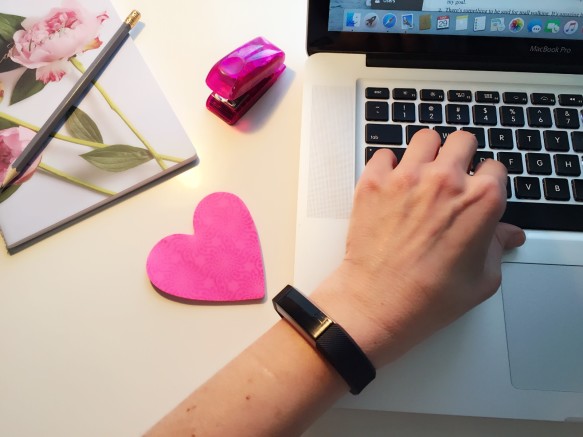 Joining the Fitbit Gang
This Christmas almost everyone in my family got a fitbit, except for me. After comparing steps and spending three months trying to one up each other, I was feeling pretty left out. I wanted in on the fitbit gang!
I've also been quite sedentary lately, spending much time on my posterior at the computer. I have been doing a pretty good job of convincing myself that by taking regular breaks, going up and down the stairs on fridge runs, doing chores, not to mention taking Ruby on walks, was sufficient exercise.
My new fitbit brought me back to reality.  (Thanks for getting me one, mom!) On my first day's wear, I was way under my goal of 10,000 steps.  (The average Canadian takes about 3,000 – 5,000 steps a day, even though 10,000 is the minimum recommended for adults.) No wonder the pounds have been creeping up.
I am a bit late to the fitbit craze, but so far, I'm very pleased with my purchase, umm,  I mean gift.
Things I've learned while wearing my fitbit:
It does make me get off my butt.  If I'm at 7000-8000 steps for the day, it spurs me to get up and start moving to make it to my goal.
There's something to be said for mall walking. It's amazing how quickly you can add steps by doing errands in a mall or large box store.  Especially useful when the weather isn't cooperating.
Gym does not equal steps.   A lot of exercises, upper body strength training or squats for example, don't count as steps.  I try not to get too hung up on the step counter on workout days.
Cooking counts. While shooting Anna and Kristina's Grocery Bag I was always dead tired at the end of the cook day. Now I know why. In addition to being on your feet, you actually take a fair number of steps while cooking.
While my iPhone also tracks steps, I prefer the fitbit. When I head out for a walk, I want to disengage and leave my phone behind.
Fitbits connect to the Fitbit app that you have to download onto your phone.  The Alta has a notification option to alert you to incoming emails and texts.  I found this exceedingly annoying and turned it off.
You know when you enter a room and forgot what you went there in for in the first place? Being forgetful and going back and forth is now a good thing.
You can beat the system. Swinging your arm back and forth registers as steps.  But you're only cheating yourself Kristina!
Will my fitbit be collecting dust in a few months? I'll get back to you on that later, after I get back from my walk.