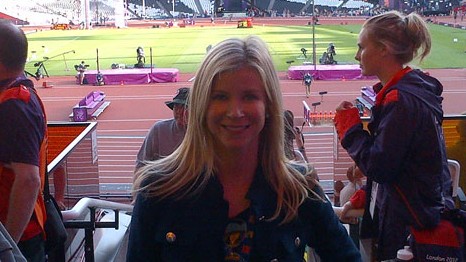 London Calling
Tuesday, 14 August 2012 | Tags:
Anna
,
Anna Wallner
,
Daniel Boulud
,
Gordon Ramsay
,
London
,
London 2012
,
Olympic Games
,
Olympics
,
Queen Elizabeth
,
travel
,
Usain Bolt
Another Olympic Games bites the dust. Holy moly, that was one big party. My last-minute trip there was shockingly easy to execute; Air Canada prices were lower than usual and there were loads of open seats, even for upgrades! Heathrow was like a ghost town. And getting from there to the hotel in Knightsbridge was a simple 20-minute ride. People were clearly staying away.
London is such a big city, the games just didn't seem to take over the whole place the way they do in smaller locales, like, say, Vancouver. In London, I found if I wasn't at a specific event, it was easy to forget it was even happening.
I went to a fantastic show at the National Portrait Gallery documenting the Queen's life in portraiture, and walking home along Piccadilly, it seemed like business as usual. (Except for a bunch of Canadians in full red and white glory. Go team.)
And over in Notting Hill, where I visited my favourite bikini shop Heidi Klein, it was like any other day in August. 
At the events of course, it was an entirely different matter altogether. I went to canoe slalom (men's doubles and women's singles). I'd never even heard of the event before; it's really whitewater kayaking – not canoeing. It was super exciting, especially since we got to witness Team Great Britain win gold AND silver. If it couldn't be Canada I was happy to root for the host team.
(Although that said, some of the GB fans were anything but sportsmanlike. First, the drunkard's behind me spilled an entire beer on my brand new Isabel Marant booties – ouch – and didn't apologize or make any move to clean it up. Then they were booing the Chinese team and cheering too loudly for any elimination that put their own team forward. Not typical of other GB fans I encountered, thankfully.)
I had two meals that will remain gastronomical highlights for some time to come. First, I sat at the chef's table at Gordon Ramsay's Petrus Restaurant. The chef's table is in the kitchen, so you can watch all the action. My eyes were glued to the theatrics as I was hoping to glean as many tips as possible. Talk about a well-oiled machine. I never once saw those boys break a sweat or even flinch. An episode of A & K this was not. It was akin to my making peanut butter on toast.
And then there was the food itself – 14 courses! From lobster ravioli to a trio of pork to coconut sorbet and a crazy exploding chocolate dessert that needs to be seen to be believed.
Included on the menu was a scallop dish with cauliflower puree, raisins and capers. I was excited to see this as it is a recipe we tested on our episode where we tested Ramsay's book, "Family Fare". When we made it, I thought it sounded like an intriguing, if not odd, combination of flavours. And in our version, odd is the word our judge chef Rob Feenie used to describe the result. Personally I found the fusion of raisins and scallops bordered on offensive. But lo and behold, THIS version was spectacular!! I must try again.
If you're into food, I recommend the effort it will take to get a seat at the chef's table, but otherwise this is still a restaurant worth visiting for a special (read, expensive) night out. Gents, wear a jacket and polish your shoes to fit in with the other serious diners.
The second meal was at Daniel Boulud's restaurant, Bar Boulud, located in the basement of the Mandarin hotel. What I love about this bistro is its more casual approach to decor, creating a relaxed ambiance as you tuck into the menu.
But make no mistake, there is nothing casual about the food. Everything was spectacularly perfect. This was a mere 5-course meal, but lucky me, again, on the menu was a recipe we tried when we tested Boulud's book, "Cooking in New York City", the coq au vin. Boulud himself appeared on that episode of Grocery Bag (and let me say, the man is a total sweetheart). In this case, when we made the coq au vin it came out beautifully and, if I do say so myself, it was not a mile off what I had at his restaurant. Of course his was better, but also the same. Now I love that cookbook even more.
Alas, perhaps the greatest highlight was attending Olympic Stadium and witnessing Usain Bolt do what he does best as the fastest man in the world. Now THAT was a thrill. As the runners settled and took their marks, you could hear a pin drop (if not a beer bottle). That was one heavy silence. Even Sir Paul, who was sitting a few seats to my left, stopped bouncing that grandchild on his knee to pay attention. (His wife is prettier in person, as is Kate, although I only saw her from across the stadium with binoculars.)
Thank you London for a fantastic games. I can't wait for Sochi in 2014!