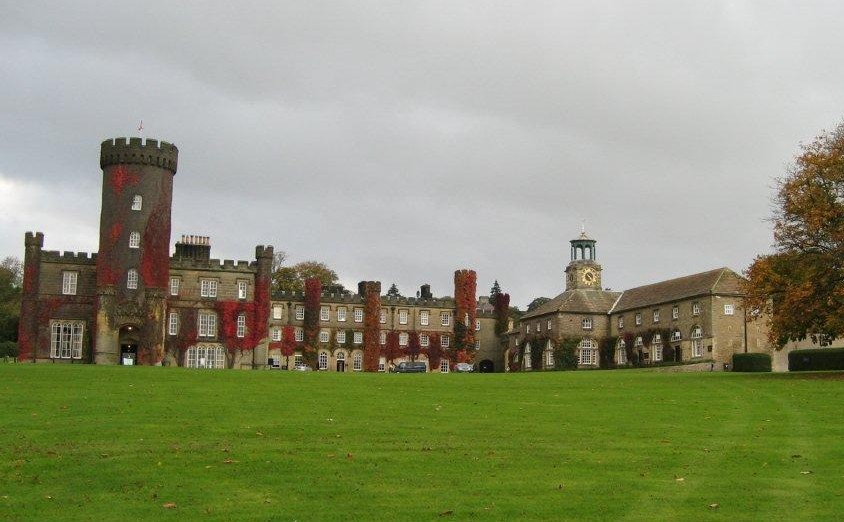 Much more than pudding to Yorkshire
Tuesday, 26 October 2010 | Tags:
Anna & Kristina's Grocery Bag
,
Best British Dishes
,
hotel
,
Kristina
,
Kristina Matisic
,
London
,
Swinton Park Castle
,
travel
,
UK
,
Yorkshire
I've just got back from a 10-day work trip to the UK, where we were shooting an episode of Anna and Kristina's Grocery Bag. We went to England to test Best British Dishes, a cookbook by Marguerite Patten, a British culinary institution. (Now in her 90's, she's written 170 books.)
Our journey took us to the heart of North Yorkshire, about a 2.5-hour train trip north of London. Our destination was Swinton Park, a beautiful castle turned 30-room hotel (though technically it wasn't ever an actual castle as it wasn't fortified), on 200 acres of land. 
While we were testing the cookbook, my mind was on dozens of works of fiction I'd enjoyed over the years that take place in this very countryside, or others just like it. Needless to say, I was pretty excited about my first stay in a bonafide castle! 
A popular spot for weddings, Swinton Park is as beautiful and romantic as you'd envision an English castle to be. I fully expected Heathcliff or Hugh Grant (depending on your persuasion) to walk through the doors and perhaps join me for tea in the grand drawing room.
I had to change rooms after my first night and I was moved into a suite the size of my own home's living room and dining room combined. Even my old room, one of the hotel's smallest, was larger than most hotel rooms I've ever stayed in. I half expected a lady's maid to come in and help me with my dressing gown.
The rooms were a bit drafty, but snuggling into the king-sized bed under piles of blankets with hot tea (laced with whiskey – which is complimentary in the room!) fought off any chill.
As with many European hotels, breakfast was included. I was most impressed with the croissants and the coffee. I didn't think the traditionally tea-loving Brits would get that right!
The grounds were idyllically pastoral, with gentle rolling hills, frolicking deer, and hopping bunnies. Seriously. And a four acre walled garden ("The Forgotten Garden" anyone?) bears produce like alpine strawberries, squash and flowers for the hotel restaurant.
Several walking paths take you past a number of old man-made lakes, including the deliciously spooky Coffin Lake. Apparently, the name comes from stone coffins buried nearby, of nuns from the local nunnery. I didn't dawdle there for too long.
We even organized a good old fashioned rabbit hunt for our episode, though I didn't take part. (My pet bunny Rex, may you rest in peace.)
For Anna's adventures in rabbit hunting and a look at Swinton Castle, tune in to our "Best British Dishes" episode of Anna & Kristina's Grocery Bag, which airs in early 2011 on W Network.
Thank you Visit Britain for help with our trip!