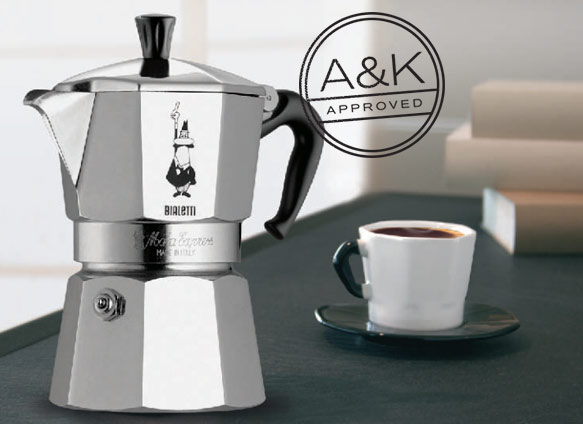 Our Favourite Product: May
For coffee lovers, there's nothing more satisfying than a perfect cup you brewed yourself, whether enjoying as your daily ritual or sharing with guests. This traditional-style stove top coffee maker is one of Kristina's favourite things. She loves it so much she has it in two sizes!
The Bialetti Moka Express
For a rich, authentic, strong cup you can make at home in minutes, you can't beat this stylish and compact stove top coffee maker. Can you boil water? Then you can make coffee with the Bialetti Moka Express. Use with regular coffee beans or your favourite espresso grind (though you won't get a thick crema like you do with the fancier espresso machines.)  
The Bialetti basically makes the equivalent of espresso. So you can drink it as is, add water for an Americano, or steam some milk for a latte or cappuccino. 
Beware, your beverage will be extremely hot. (And that's how Kristina likes it!)
There are a number of sizes available, but the most common found in stores are: 
Available at:
In the USA: Amazon.com
, BialettiShop.com