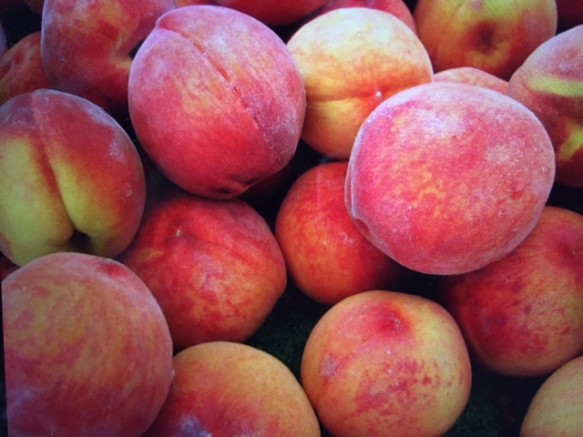 Peach Pie To Die For
I'm all about cooking with what's in season. Not because I'm a food snob - au contraire. When in season, ingredients are easier to find and taste infinitely better than those that have been shipped from a far away land. I'm referring mostly to fruits and vegetables here. Cooking with local produce makes my life easier and makes me look better as a cook! Flavours are deeper and more intense. Fruit is juicier. At the moment, I'm all about peaches.
Peach pie in particular. A couple of weeks ago I walked into a grocery store and was hit with wafts of peachy aroma. I couldn't help myself and came home with a bagful. Since then it's been all peaches all the time as I've worked to perfect the following recipe. If you live anywhere that you can find fresh local peaches, get on this one before the peaches are gone until next summer.
Peach Pie To Die For
Pie crust: (Enough for 2 shells)
2 3/4 cups all purpose flour, chilled
1 teaspoon Kosher salt
1 teaspoon sugar
2 1/4 sticks butter, chilled and cut into pieces
5 tablespoons orange juice, chilled
Filling:
6 cups sliced peaches (about 6 or 7 whole peaches)
3/4 cup white sugar
1/4 cup all purpose flour
1 generous teaspoon cinnamon
pinch of nutmeg
1 tablespoon fresh lemon juice
Topping: (Ok, so it isn't technically pie, but rather more of a pie/crumble combo)
1/3 cup all purpose flour
1/3 cup brown sugar
1/3 cup rolled oats
pinch of Kosher salt
2/3 of one stick cold butter, cut into chunks
To make the crust:
Combine flour, sugar and salt in a food processor. Pulse. Add butter and pulse until coarse. Do not over process. With machine running, add juice just until dough sticks together, but isn't sticky. If more liquid is needed add cold water, a little at a time. Divide dough into two discs, wrap in plastic and chill at least an hour or until ready for use.
To assemble and bake pie:
Preheat oven to 425 degrees. Combine filling ingredients and stir thoroughly but gently. Set aside. Combine dry topping ingredients of flour, brown sugar, rolled oats and salt in a separate bowl.
Roll out one disc of dough to fit a 9 inch pie plate. Don't forget to allow for a 1 inch overhang. Scrape filling into pie shell. Sprinkle oats mixture over top. Dot with butter.
Bake for 10 minutes then reduce heat to 350 and bake for 30 – 40 minutes more or until golden on top. Serve warm with vanilla ice cream.
This recipe is pretty fool proof and amounts can be fiddled with a bit, as some people like things less sweet or more peachy. I always make extra topping. You could add a dash of vanilla extract to the filling. Or serve the pie with warm caramel sauce. The key is to only make it when you can get perfectly ripe, succulent peaches. I've seen some recipes that call for canned peaches, and maybe that would be delicious, but it just seems wrong.
This weekend I will be peeling, slicing and freezing peaches so I can have more pie in November.
Enjoy!