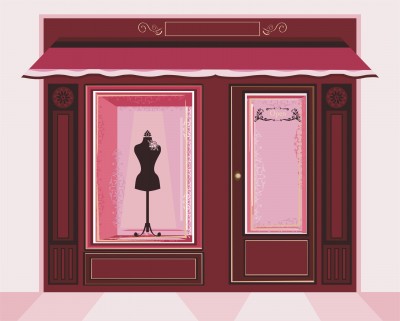 Plus-size clothing comes out of the closet
Guest blogger Judy R. shares her running list of clothing stores that celebrate women's curves.
I've been size 14+ for most of my adult life. Now in my late 30's, I am a happy and confident "curvy girl", though at times I've struggled to find clothes that make me feel as good on the outside as I do on the inside…
When I do find a good store, I like to spread the word because I know a lot of curvy girls in the same situation. So here's my list of plus-size clothing stores and the experiences I've had shopping at them, both in person and online.
CANADA – NATIONAL STORES
In Canada, there are a few national stores that carry decent and somewhat stylish, plus-sized clothing.
Old Navy
UPDATE Aug. 2013: Old Navy just started selling their PLUS SIZE clothing line online in Canada!
Old Navy is great for buying cheap staples like tank tops, t-shirts, and button up shirts as well. I prefer wearing 100% cotton, which many of their items are made with, but they've also got polyester and rayon blends for some items. If you like to stick to cooler cottons be sure to read the fabric details before you add to cart.
(Avoid acrylic blend sweaters from here or anywhere – you'll be sorry as soon as you wash it. The pilling and weird spider-webbing effect that happens with acrylic turns a new sweater into a thrift store giveaway all-too-quickly.)
Old Navy also has some good jeans too, with a nice amount of stretch (not too much, not too little). For jeans fit, I prefer the Sweetheart style (rounder hips, thinner waist) but they have a few different fit styles to choose from.
The Bay
The "women" section at The Bay can be a maze of frump and dump, but keep your eyes open for the in-house label Style & Co. I've had some luck finding a few good staples. (But remember to keep your frump filter on. Just because it fits, doesn't mean it looks good.)
The Bay carries designer labels in plus sizes too, including Liz Claiborne, Jones New York, London Fog, INC, Calvin Klein, Ellen Tracey, and more.
They also have really good late-season markdowns, but they typically shove all their sale clothes onto a few circular racks, forcing you to really dig to find the gems. Be careful to check the item thoroughly if you pull it off a sale rack. Things get really wrecked on there. Especially watch out for holes in shoulders of sweaters that have been hung up and stretched out.
Sears Canada
I've ordered a few things from the plus section of Sears.ca online and have been happy with some of them, but not others. The quality of the clothing seems a bit on the cheap.
Note: if you buy a size 16 from the "regular" section (rather than from the plus section), expect it to be on the small side. For a roomier fit, make sure you're shopping in the plus section.
I haven't shopped much at Sears in person and I will probably keep an eye on their online selection, but it's not a store I will go back to regularly to update my wardrobe.
Reitmans
In recent years, Reitmans has upped their style quotient along with their brand marketing and are now producing some pretty classic staples every season. They're not always that fashion-forward, but they are consistent.
I love the scooters (or skorts, aka skirts with built-in shorts) that they carry every summer. I hardly wear regular shorts anymore. Get the ones with a bit of spandex in the cotton blend, especially if you plan to wear them for activities like gardening or canoeing or hiking, like I do. They're so comfortable, and they're also quite flattering because they look feminine, camouflage your bum and hips, and still give you the confidence to run around and not worry about your hemline.
Bargain Note: Try not to buy things at regular price because they get marked down pretty quickly at Reitmans. And at the end of the season you can often pick up some good cotton t-shirts, tank tops and other staples for super cheap, $6-15.
Reitmans usually uses cotton or cotton blends for most of their casual clothes. They also carry a few business casual items and sneak the viscose, polyesters and other synthetic fabrics in that I personally find uncomfortable.
Addition Elle & Penningtons
I have a like-dislike relationship with both Addition Elle and Penningtons. (By the way, Reitmans, Addition Elle, and Penningtons are all owned by the same company, Reitmans (Canada) Ltd.)
On one hand, some of their clothes are pretty frumpy and made out of uncomfortable, synthetic fabrics in un-hip patterns. (Acetate?!) Definitely not stuff I'd expect from a specialty plus-size clothing shop.
And in the summer, many of their cute, light, flowy sun dresses are almost all made out of polyester and rayon. Where's the summer cotton?
On the other hand, I've gotten some awesome bathing suits from both stores, specifically the tankini suit, a very flattering style on us curvy girls. 
I've also found some amazing gems (skirts, jackets, blouses) at both stores that really hit it out of the park. That's why I keep going back, even though I'm often disheartened by what I see on the racks.
Buyer Beware Note: Beware of any sweaters from these stores (including Reitmans and many others) made with acrylic. It is terrible at pilling (worse than wool) and also does this weird spider-webby thing. It looks great on the shelf, but after you've washed it once or twice, it'll look like an old thrift store sweater. Don't be fooled. Don't waste your money.
Winners
When Winners first came on the scene a few years ago, I couldn't get enough of it. They had some amazing designer brands like Liz Claiborne, Jones New York, Anne Klein, Bill Blass, and even Levis jeans, all in my size. I nearly went bankrupt shopping there! Thank goodness they were discounted prices.
Nowadays, however, I've been pretty disappointed every time I go to Winners. Either it's supremely picked over before I get there and I just have bad timing, or they're just not getting in as good stuff as they used to. I still do find a gem there once in a while, but instead of coming out with 5 or 6 items like I used to (still only spending about $100), I now only come out with 1 or 2. I've even left empty-handed a few times recently. Quite heartbreaking!
Website: www.winners.ca No online shopping or catalog, but good for finding locations and getting deal alerts.
Vancouver Area Independent Shops
Since I live in the Vancouver area, I frequent a few local shops that also cater to the plus-size market:
bodacious
Located now on Granville Island, bodacious carries a lot of unique clothes from local designers as well as a more broad spectrum. I love to support them, even though the prices are more expensive compared to the bigger chains like Reitmans. Understandably it's because the clothes are small production runs and often hand-made by the designers themselves.
I usually save my Bodacious visits for when I'm looking for something special, like a dress to wear to a wedding, job interview, or party. I recently bought a t-shirt there (while on the hunt for a September wedding frock) that had a scoop neck, and a stitched on collar made from satin, with pintucked stripes down the centre. I totally love it. It's casual, like a regular t-shirt, but with fantastic and unique details that totally punch it up to fabulous.
It's these kinds of unique pieces that the ladies at bodacious really have an eye for.
Website: www.bodacious.ca No online shopping, but there's usually a selection of seasonal items shown.
Babs
On Granville near 8th is the store-front for a local designer who creates beautiful, flowy outfits from silk, linens and cotton, in styles inspired by the Far East. Her clothes are on the expensive side as well, but she uses good quality fabrics and very unique styles. Not really everyday wear, but worth a look nonetheless, especially if you want a unique jacket or skirt to build an outfit around and make a splash at a special occasion. She also does custom orders.
Website: www.babs.ca (Includes a few images from recent collections. The site isn't updated very often so it's best to go into the store.)
USA
The internet is a great place to find new stores to shop at! Unfortunately, if you live in Canada and you shop at American stores online, be prepared to pay extra. A LOT extra. Not just the exchange on the dollar, but also duty, and some pretty steep shipping charges.
That said, there are some good stores to check out if you're willing to pay the extra fees. All of these stores below ship to Canada.
Eddie Bauer
I put Eddie Bauer down here under the US merchants because their website is American and, though they have stores in Canada in some major city centres, when you shop online, you're shopping in US dollars and paying duty and international shipping fees. (They automatically calculate and charge you duty on your items when you click into the international shopping cart.)
Most people are familiar with the style and quality of Eddie Bauer clothing so I won't get into it too much. Their plus selection is somewhat limited (i.e. not everything in regular size is available in plus), but they do deliver quality items and good wardrobe staples.
In Canada the stores don't seem to carry plus items, but they do carry XL and XXL in tops, which are about the equivalent of 1x and 2x. 
Online, check the clearance section since they do cut the prices pretty steeply. It's a great way to stock up on staples like long sleeve/short sleeve shirts and tank tops. 
Sealed With A Kiss Designs
I got hooked on SWAK's fabulous dresses and outfits at jaw-droppingly good prices (especially when on sale). And with the Canadian dollar doing well, there are some really great buys to be had.
I ordered 3 dresses from SWAK when I first discovered them and all of them are keepers — very flattering for curvy ladies, with waist-defining details and comfortable fabrics.
The SWAK selection is not huge, but the quality is there. They also have customer reviews, which is fantastic for when you want to find out how something actually fits. I'll be adding my two cents to the reviews for the items I bought.
One thing to note is that you really should pay attention to the size charts (it's different for each item of clothing) because I got my normal size in one dress, and went up a size in two other dresses that were described as fitting small. One of the bigger-sized dresses is a bit too roomy while the other is snug (but good). May have to get them tailored a bit, but nothing is ever perfect, no matter where you buy it.
Always For Me
Mainly a swimwear site, Always For Me carries a lot of really pretty, classic-looking, curve-flattering bathing suits, as well as some active wear items and lingerie. The prices are about average for bathing suits. (No matter where I shop, bathing suits always seem to be $75+ for some reason, unless it's the end of the season.)
I bought one tankini bathing suit from here online this summer and it was fantastic quality. Unfortunately, the size was way off. The top was too big and the bottom was too small, even though they were a set and labelled as the same size.
I am probably going to see if I can get the top tailored because I really love it. I have something else I can wear on the bottom, which is why I love buying tankinis. As I said before, it's a flattering style and you can also mix and match!
Unfortunately, bathing suits and lingerie are usually non-returnable, so you need to be very careful about buying these items online. Pay attention to the measurements provided, and any customer reviews that are available.
Torrid
Torrid has some great fashion-forward and trendy items for relatively low prices. The styles are pretty funky and fresh, though some are too bling-y and nightclub-y for my taste.
The one thing that killed me with my Torrid purchases (as with all of my US purchases) is the shipping fees. For both of my shipments, I paid nearly $30 each in shipping (duties, tax, handling fees) to Canada. So now when I buy something, I make sure I really want it and consider the extra cost on top of the price.
Website: Torrid.com. They also have real stores in a few US cities. Check the website for locations.
Macy's
Macy's has started shipping to Canada. I have yet to try anything from Macys, but from what I can see in their online catalog, they look to have a really nice selection, including plus sizes from DKNY, Steve Madden, Anne Klein, Ralph Lauren, Dollhouse, and Jones New York, among others.
And they get bonus points for actually having clothing photographs on real plus size models! It makes such a huge difference when you're trying to shop for plus size clothes online. It's always hard to gauge how something will look when the photo only shows the clothing on a stick of a woman.
Other things I like about the Macys site are that they have customer reviews (critical again for shopping online), and that they actually show you prices in Canadian dollars (if you have the website set to your country). Very helpful! What I don't like is that they only show swatches of the colour options, not the full colour item, but that's more of a website thing, not a clothing or selection issue..
Unique Vintage
Full of vintage-style dresses and gowns that are utterly gorgeous, many of these beautiful dresses are available in 14-16, and some even go up to 6x. There is even a small selection of lovely, classic-looking wedding dresses too.
Whether you want to channel Veronica Lake, Marilyn Monroe, Betty Paige, Ingrid Bergman, or a curvaceous Audrey Hepburn, this is the store that can outfit your desires with a collection that'll surely make you feel movie star glamorous.
If you do order a dress from Unique Vintage, please read the measurements provided for each dress very carefully. I noticed that some dresses are cut so that a tag 3x is actually about a size 16, while others are 18 or 20.
IGIGI
Recently I came across IGIGI, which appears to be a clothing line designed by one woman, Yuliya Raquel. The website is full of fancy dresses in flattering styles and I'm in love with quite a few of them. I've also noticed that MaximumWoman.com and LoloandGigi.com carry some of the items too, so if you're in Canada, you might do better ordering from them instead to save on shipping and duty charges.
Since most of the items on the IGIGI site are pretty dressy, I probably won't be shopping there much. I'm a casual dresser and I work in a casual field so I only need to dress up once in a while.
But that's not to say I don't have my eye on some of the items! (In fact, they've got the Annette dress I saw at MaximumWoman.com on sale for $49.95 USD, while at MW, it's $149 CAD. Where's my calculator?! Add up exchange rate, shipping, duty…)
One thing I really like about this website is the "Shape Stylist". Click into one of the product detail pages and look at the box on the right side of the product description. You can choose your body shape (diamond, hourglass, triangle, etc.) and the site will filter outfit suggestions to suit you! If you don't know your shape, you can click "calculate my shape" to find out.
Land's End
At the other end of the spectrum from IGIGI is Land's End. It's all about comfort and tradition, and less about fashion-forward style. The clothing products they carry are pretty "preppy" (is that still a term used these days?) but it's a style that is accessible for families and just about everyone.
They also carry CASHMERE sweaters! Unfortunately, most of them look like something my grandma would wear. Sigh.
I have purchased a few items from Land's End and have been more or less happy with them. The sizes are usually right, but  some things turned out a bit snug. It's a bit of a gamble. I purchased a jacket recently one size too big because I like to layer, but it was way too big, even with a bulky sweater underneath. Sent it back. (Returning items is quite easy with Land's End.)
Make sure that you are browsing the "plus" section (X, 1X, 2X etc.), and not the regular section of the site, which also has sizes 14-18. Same thing here as with Sears.ca: the regular sizes 14-18 are definitely not roomy enough for curvy girls.
By the way, Sears and Land's End are owned by the same company, but I find the Land's End clothing to be much better quality than Sears.
The nice thing about shopping at Land's End is that if you enter the site through LandsEnd.ca instead of .com, they'll add duty onto the purchase price in the cart so that you have a better idea of what you'll be paying in total. (Unfortunately, this also means there's no chance you'll get a break on duty if the customs officer happens to be falling asleep when your package passes under his nose, which has happened to me a few times.)
Land's End also seems to constantly be running promotions. Mostly it's discounts, sometimes it's free shipping. I get their sales alert emails and it seems like there's one almost every day. Be aware that they will put you on their printed catalogue mailing list (as does Sears) so you may want to call them up and ask to be removed if you aren't interested in them. (I received 3 different catalogues in one day a couple of weeks ago!)
Nordstrom
Nordstrom has a decent selection of plus size clothing, much of which includes designer labels like Hilary Radley, Jones New York, Juicy Couture, Kenneth Cole NY, Anne Klein, and more. This means that the prices are also designer prices, however.
The nice thing about their site is that you can choose to look at things in Canadian dollars, which helps a lot to avoid sticker shock when you get your credit card bill. Also, right now (mid-November 2009) they have free shipping to Canada on orders over $100, which is a real deal considering I've paid $30-40 (USD!) for shipping from other stores in this list.
I've shopped at Nordstrom in person (Seattle) and found lots of things that suit me. Online, it's a bit hard to tell. I don't like the way they mix non-plus photos into the plus size section, since you end up looking at very thin, straight-shaped models wearing something that apparently comes in a plus size. It's just too hard to imagine how some of the things are going to look filled out with womanly curves. 
That's the end of my list for now. If you know of any other plus size clothing stores, please share!