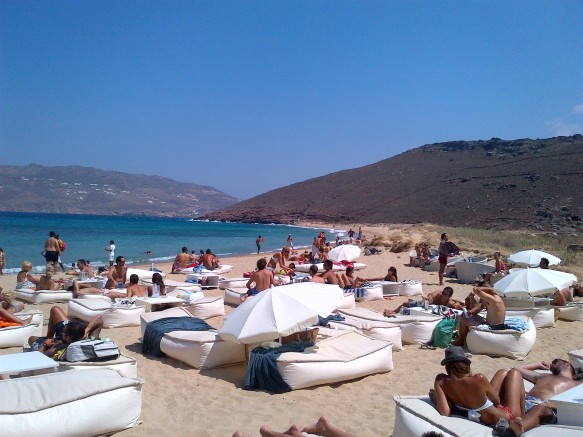 Postcard from Greece
I'm just home from my first trip to the Greek islands. I had always wondered if those posters at my local souvlaki restaurant told the real story, with all those pristine white houses and clear blue waters. Greece has been on my bucket list for many years, but would it live up to the fairy tale expectations?
Now I'm happy to report that those posters you've seen are accurate.  Greece is an amazing and unique place.  We hit two islands for one week each.  Mykonos and then Santorini.  
What none of the travel sites tell you is that Mykonos is the windiest place on earth.  If you care about your hair, this is not the place for you (I'm talkin' to you KM!).  And this works well for me because I spend plenty of time with my blowdryer at home, so one of my favourite parts of a beach holiday is forgetting about hair and makeup.  
Mykonos is located in the centre of the Aegean sea, in the Cyclades.  Due to it's positioning it's known as the windy island and I'm told you can pretty much count on wind always being a factor.  Beaches on the north side tend to get more wind.  (Which is where we found our favourite beach, Panormos, featured in the top photo). My hair got so crusty I had wind-dreads.  I loved it.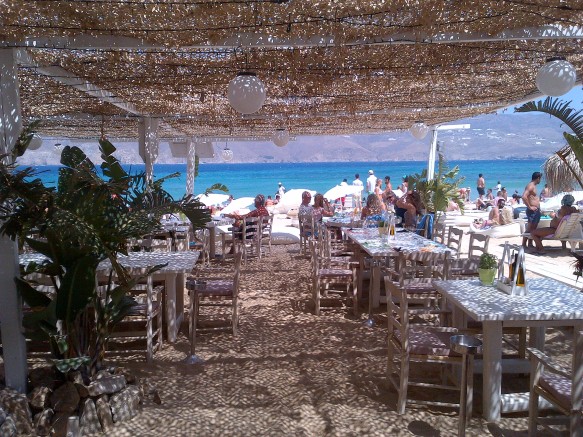 Restaurant at Panormos Beach
We checked out a couple of hotels and I highly recommend
Cavo Tagoo
for a special occasion.  It's close to Mykonos town, rooms are spacious, decor is minimalist and the service is solid and more importantly, friendly.  
The pool deck overlooking the sea is fantastic.
 Definitely a better choice over the other trendy hotel in town,
The Belvedere
(which I recommend for dinner and drinks).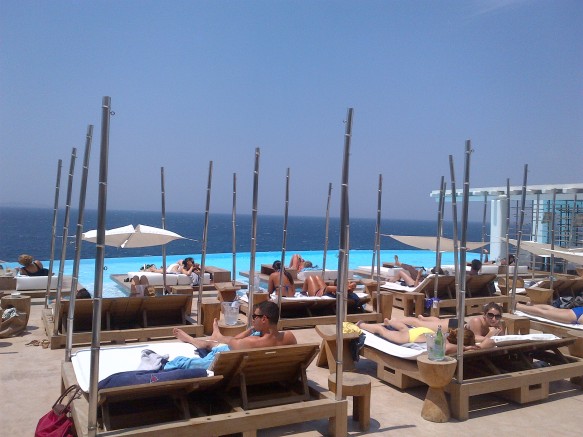 Pool deck at Cavo Tagoo, Mykonos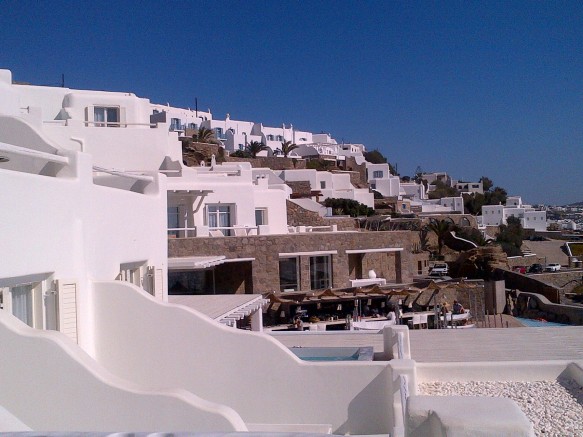 Cavo Tagoo hotel, Mykonos
Best restaurant?
 For us it was
Interni
, followed closely by
Nammos
(if you like the party beach scene and you've got money to burn you absolutely cannot miss Nammos.  
It's an all day party – in a good way.
)
Best activity?
 Get yourself onto a boat and visit the ancient ruins of
Delos
(which is a UNESCO heritage site and supposedly the birthplace of Apollo) and be sure to swim in the waters off the nearby
Rineia
.  
The clearest, most beautiful waters I've seen anywhere in the world.
Swimming here felt healing and ethereal.  Although the boozy lunch might have had something to do with that.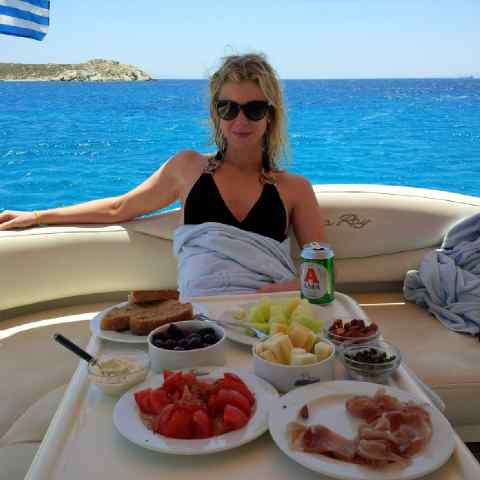 Swimming near the ruins
Santorini is much quieter than Mykonos so best to do it toward the end of a trip.  It's definitely
best to stay in Oia
, which is a quaint and picturesque town on the north end of the island.  And if you can, check yourself into
Canaves Oia
hotel and send me a postcard.  I promise you won't regret it.  
The. Best. Sunsets. In. The. World.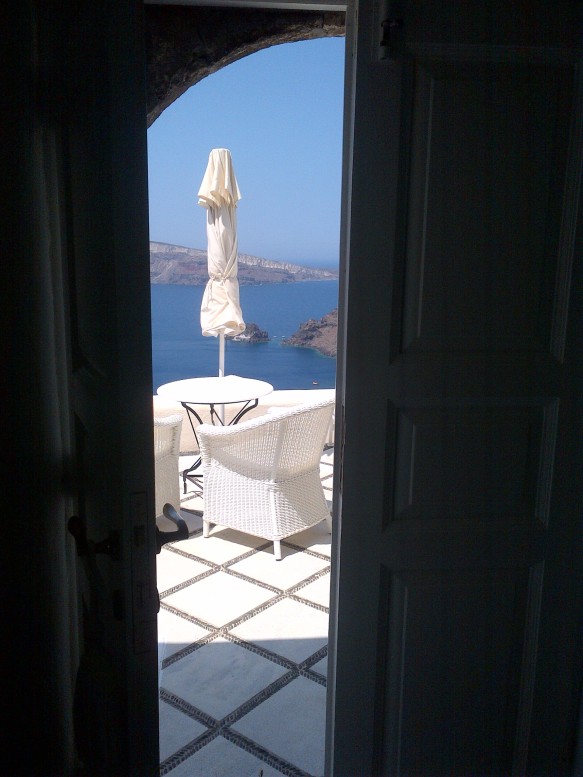 View from Canaves Oia hotel room, Santorini
And for all those other shopping addicts out there, part of what you'll love about these islands is the late night shopping.  Everything stays open til the wee hours. After a few glasses of wine it's very dangerous! (Even Greek wine. Although this product is not the country's strong suit). Shop keepers expect you to bargain, so be bold and stand your ground.  The two best things to come home with? Jewelry and some sandals.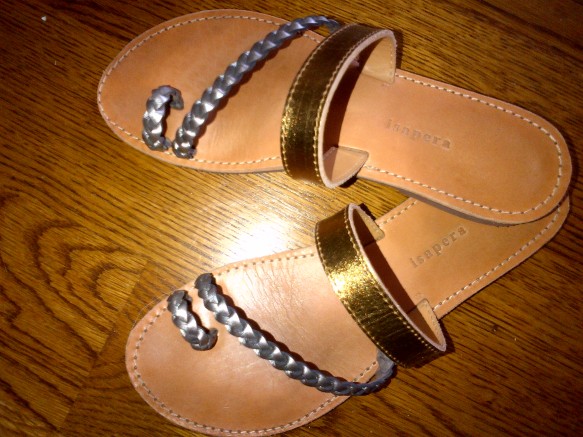 The best souvenir!
But I left Greece without finding out the name of the most delicious feta cheese, olive oil and spice spread! I'm addicted to it and need to learn how to make my own. Any Greeks or foodies reading this who know the name or have a recipe, please let me know! Yamas!