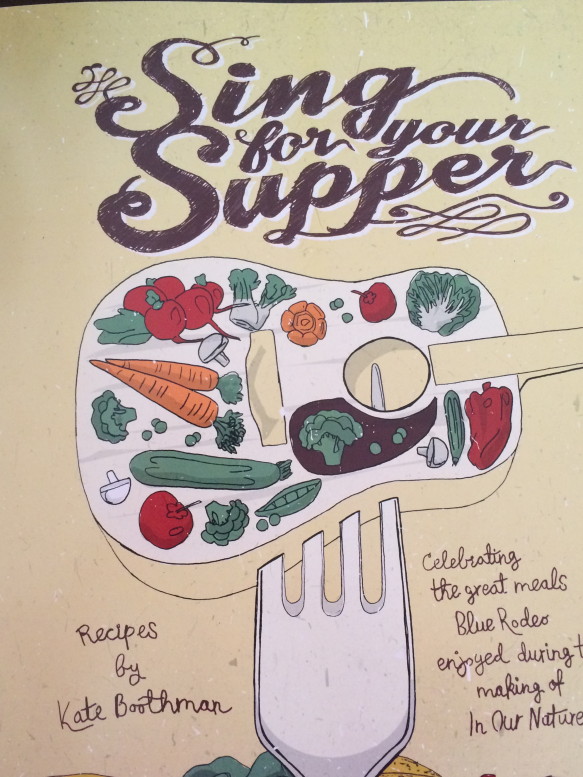 Sing For Your Supper – Cookbook review
I'm starting the new year off with a gift suggestion.  Yes, I know you're way past presents and moved on to dreading those incoming credit card bills, but if you've got anyone with a birthday this month or if you want to get a really early start on Christmas shopping I recommend "Sing For Your Supper" by Kate Boothman.  You will enjoy this book even more if you love the music of Blue Rodeo.
The book is a celebration of food and music made during the band's latest album, "In Our Nature" (Which I also recommend.  They just kicked off their tour in Vancouver and they are as good as ever.  It must be the food they've been eating).  Apparently chef Boothman was responsible for feeding the band while they recorded at one of the musician's country studio in Ontario.  Reading the book it is clear that food is a critical part of their creative process and I love the sneak peak it provides into how it all comes together.  They seem like regular people who enjoy un-fussy good food and the company of old friends.
Whether you're a fan of Blue Rodeo's music or not, the recipes are straightforward, down-to-earth and with the odd twist, like the Maple Cookie Pumpkin Pie.  It could be great for anyone who's just discovering an interest in (or need for) cooking.  Check out the Olive Oil Roasted Potatoes.  Seriously addictive.  I'm always looking for a new way to serve this crowd pleasing side dish.
Every once in awhile we need a reminder that cooking for others is supposed to be an act of love.  It doesn't matter if the napkins match or if things aren't ready at the same time.  At my Christmas dinner this year we were so short of chairs one guest sat on the counter.  "Sing For Your Supper" is a reminder of what's important. 
Oh yeah, and Blue Rodeo's profits from book sales will be donated to The Daily Bread Food Bank.