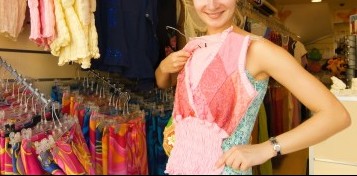 Size doesn't matter
"What size are you?" I don't even know how to answer that question anymore. In the last few months, I've purchased shoes that range in size from 6.5 to 8, t-shirts and tops from size XS to large and bottoms in three different sizes. (Notice how I left the exact numbers out?)
I'm learning again and again not to get caught up in clothing sizes. And although sizing differs from brand to brand, there are some general rules I've uncovered when it comes to buying the right size clothing for you:
Bathing suits
Why is it that one of the most painful shopping experiences involves the added agony of having to go up a size? Well, don't take it personally. Most bathing suits do fit small and going up a size is the norm.
If I'm between sizes, I go bigger. You don't want any flesh to runneth over too tight straps or bands. And here's a counter-intuitive tip: I like to go bathing suit shopping after a decent-sized lunch. If you are full, this is probably the worst you'll ever look in the bathing suit! 
Another tip, slap on some self tanner the night before your shopping excursion. It doesn't completely erase those unsightly bulges, but it does help. (More on shopping for bathing suits.)
Tops
This is one area of clothing where sizing is completely brand- and style-dependent. Many of the big name retailers tend to fit on the larger side. This includes the Gap, Banana Republic, Old Navy, Club Monaco, etc. Designer clothing tends to fit a bit smaller. (Like the price tag isn't insult enough.)
With shorter t-shirts, I tend to go bigger. They often seem to shrink in the wash and I find they shrink up, not in. With the trend in looser Ts, I tend to go smaller. Yes, I want them to be slouchy and comfy, but I try refrain from looking like I borrowed my boyfriends XL.
In button-down shirts, I err on the side of a larger size. Gaping button holes across the bosom don't say sexy, they say I squeezed into something that doesn't really fit me. (Either that or "This shirt fit before I tried it on with my padded bra." Did I say that out loud?)
Skirts 
I recently bought a pencil skirt that's too tight, and I can't return it because I bought it on a trip. I hate it when I make a shopping faux pas! I made two fatal mistakes: I didn't move around enough in the changing room to test it out and I should have followed the bathing suit rule and tried it on after lunch.
Now, I tend to go slightly bigger in skirts. This enables you to tuck shirts or even thin sweaters in, not to mention the bonus feature of allowing you to walk.
Jeans 
This is a tough one. In general, I tend to go on the tighter side when shopping for jeans. All-cotton denim has a lot of give. Jeans with Lycra or Spandex stretch out less, so stay true to size. If the jeans are not fitting well, try another brand or style. (More on shopping for jeans.)
Shoes
With flats, I go bigger, even up a whole size. I use these shoes for walking so they need to be roomy enough to accommodate the afternoon's fatter feet. Attractive, but true.
Same with sneakers and running shoes, which should be a half to a full size bigger than your regular shoe size to give your toes room to move.
As for heels, including pumps and especially sling backs, stay snug-ish or you could end up walking right out of your footwear.
Bags
Luckily, bags seem to be immune to the size conundrum. And men foolishly ask "Do you really need another bag?"
So are you finding the same size problem when you shop for clothes these days? I want to hear from the men too, or is it just us women who have to play the size guessing game?