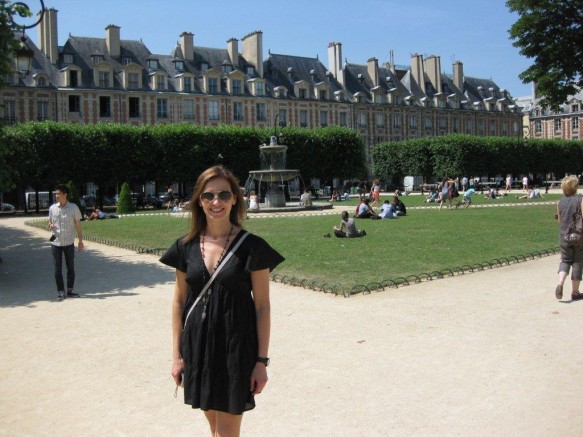 Summer in Paris
I've always believed Paris to be the most romantic of cities. And it is, if you don't let the stifling summer heat, the hordes of tourists, and the incessant traffic ruin the mood...
Top photo: Place des Vosges, Le Marais, Paris
I've just returned from a three week trip to Europe that included 5 days in Paris, and what's become a yearly return to the Croatian coast. (See last summer's blog: Croatian Sensation.) I have been to Paris on two previous occasions, the first time about two decades ago and then again about 6 years ago.
Hotel Brittanique, Paris
STAY
We stayed at the Hôtel Britanique in the 1st arrondissement (Paris is divided into 20 neighbourhoods, or "arrondissements"), one block from the Seine and a stone's throw from both the Louvre and Notre Dame. Paris hotel rooms are expensive and generally tiny. Our room was small, but it did house a king sized bed and decent air conditioning, both of which are keys to my comfort. To say Paris is a bustling city is a huge understatement. Hôtel Britanique is on a quiet street, making it well worth the money.
The hotel is also very close to the 3rd and 4th arrondissements, which contain the area known as Le Marais, one of my favourite parts of the city. This area used to be famous for being home to the Jewish quarter (it still has some wonderful Jewish bakeries and delis) and is now one of the trendiest of Parisian neighbourhoods, boasting a vibrant gay community, cutting edge boutiques, beautiful patisseries, and a steady stream of cafes and restaurants.
EAT
It was here that we had one of our more memorable meals at Chez Janou. Tucked away on a quiet Marais street, Janou still hasn't hit the tourist guide books and has the feeling of a locals' hidden gem. The chocolate mousse was to die for, especially when it comes with an all you can eat offer!
Chez Janou, Paris
I have to confess I'm not a huge lover of French food as I find many of the savoury sauces overly rich, and I don't eat things like veal, lamb or rabbit, not to mention sweetbreads and offal…some of the mainstays of French menus.
But it's a whole other story when it comes to baked goods and desserts. I definitely had my fill of croissants,chocolate filled and plain. My favourite discovery on this trip was macaroons. Previously I had confused them with the American coconut version of the dessert. But French macaroons are crayola-coloured little sandwiches, with a cake-like bun on the outside and a delicious cream filing. (Think small wagon wheel, en français.) They'rein almost every French bakery and I made it my mission to try every flavour. (Raspberry and chocolate top my list.)
SHOP
Parisians love to shop, and there are numerous shopping areas all over the city. I browsed the shops in Marais and reveled in the air conditioning of the designer boutiques of Ruedu Faubourg. Two of my favourite haunts were Sandro, a French chain that carries reasonably priced boho inspired clothing, and Patrizia Pepe, an Italian chain where I found a pair of combat boots perfect for Vancouver's imminent rains.
Departmentstore Le Bon Marché is also worth a visit as it houses many of the best-known French designers and brands, all under one easy-to-navigate roof. I paid a visit on what turned out to be the first day of their 50% off summer sale and ran away screaming in search of more macaroons. (Crowds aren't my thing.)
SEE & DO
Paris abounds with tourist must-sees, but on this trip one of my favourite excursion was to the Eiffel Tower as this is the first time I've actually ventured up it. On previous visits, the line-ups for the elevators were the deterrent, but on this visit I spotted a much shorter line of fit looking people – the entrance to the staircase! You still have to pay (about 5 Euros) but 42 floors later you're treated to a great view, not to mention a good workout.
My only real complaint on this trip was the heat, obviously not the city's fault. But 32-35 degrees Celsius, when encased in a concrete jungle, feels more like 40. Next time I'm taking the song lyrics to heart and I'm heading to Paris in the springtime!
La Tour Eiffel, bien sûr!