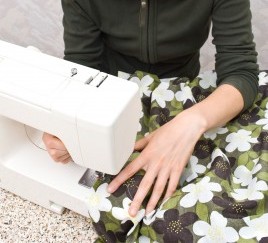 Tailoring Tips
When you want your clothes to look like they're made just for you, a tailor is an invaluable wardrobe partner. Here are some tailoring guidelines we've learned along the way.
The Basics
If you think about how much you spend on a good quality item of clothing, making sure it fits perfectly with a bit of custom-tailoring is worth it since you'll get a lot of wear out of something that looks great on you.
Or, if you're one of those people that have trouble finding things that fit you, you're not alone, and a tailor can be your best friend.
Pants
Pants should break once between mid-shin and the ankle. (The "break" is the creased formed when the pants hit the shoe.)

If it breaks more than once, the pants are too long and should be hemmed.

If there is no break, the pants are too short and you should either look for a longer leg, or consider taking the hem down if there's enough fabric.

For women, pants should fit your hips so that it's smooth across the front and bum.

If it ripples or pulls, it's too tight across the hip and/or thigh. Go up one size.

For many women, fitting at the hips means the waist will end up too big. Tailoring the waist to fit, however, can create the perfect pant.

Hemming pants and adjusting the waist are simple fixes that don't cost much.
Shirts
For women purchasing a button-up shirt, fit it to your chest (especially large-breasted women) so that the button area does not gape. Move your arms around (above your head, scratch your back, etc.) to make sure it's not too tight. The rest of the shirt (shoulders, waist, etc.) can be tailored to fit.

For men, the shirt should fit the shoulders, neck and chest area. Men's shirts come in a variety of pre-made measurements, so unless you have a unique body shape (e.g. very long arms or a very broad chest), you may be able to find a shirt that fits without tailoring. (More on men's shirts.)
Skirts & Dresses
Skirt lengths vary depending on the season, but the most unflattering hemline that all women should avoid is right at the knee.

If you find a must-have skirt but the hem is unflattering, you can have it let down so that it just below the knee (check that there is enough hem fabric before purchasing), or taken up so that it is brought just above the knee.

Dresses can similarly be tailored to fit, but be aware that cost may be dependent upon the type of fabric and the intricacy of the style. Pay attention to the hem, waist, shoulder, chest and other areas to see if tailoring might improve the fit. Tailor if:

The dress needs a little updating. Raising the hem above the knee is a quick and easy way to update the style.

The armholes gape on a sleeveless or short-sleeve dress (creating a ballooning between your breast and shoulder)

As with shirts, you buy a dress to fit your chest area (especially large-breasted women), and require the waist and shoulders to be adjusted.

The arms are too long or too tight. 
General Guidelines
Dry clean or wash clothing first before having it tailored since fabrics change slightly after washing. If you don't, they may pucker and bunch around the new seams.

Intricately-beaded or embellished clothing can be expensive to tailor. Ask yourself if it's worth it BEFORE you buy.