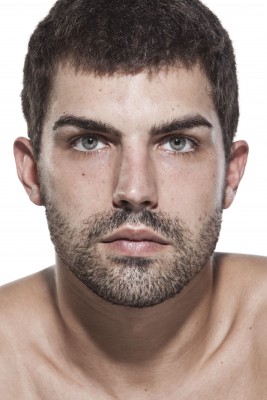 The Perfect Stubble (Beard Trimmers)
In the 80s, a scruffy-chic, rebel police detective brought the "five o'clock shadow" into the spotlight (Don Johnson in Miami Vice). Since then, men's facial hair has gone from goatee to soul patch and everything in between. Short stubble has always been popular, however, and is frequently rocked by hot celebrities like George Clooney, Hugh Jackman, Brad Pitt, and David Beckham. (Sigh.) We test some facial hair trimmers and learn tips from an expert on achieving the perfect stubble.
The Basics
Many people find a little stubble on a man sexy. (And we agree!) It is often described as giving the wearer a more defined, angular-looking jaw. With a little attitude it can also create an air of independence, anti-establishment, and self-confidence.

But some people dislike the look and feel of stubble. For a partner, it may feel too prickly for their liking. And if it's too well-manicured, well, it may look unmasculine. So how do you get it right?

The Perfect Stubble is characterized by a very even length all around.
What To Do
If you think sporting the perfect stubble means you can slack off on your shaving regimen, think again. Length is very important for achieving The Perfect Stubble and the border between sexy and scruffy is a tricky one. Bottom line: maintenance!

You have two options for achieving the look:

Start off clean-shaven and let your facial hair grow for 2-3 days. Unfortunately, you have to shave again after that or it will grow into the scruffy range.

Or, once you've reached day 2 or 3 length, maintain it with a special facial hair trimmer. This can keep your look going for as long as you want.

Trimmer tips:

Apply steady pressure while trimming to avoid a patchy look. (If you make a mistake and take off too much, it's best to shave it all and start over. Just remember, practice makes perfect!)

Ingrown hairs are the bane of The Perfect Stubble. Discourage them by regularly combing your facial hair. If any crop up, catch them early and tweeze them if possible.

Make sure your face and hair are clean before trimming. Comb your facial hair too, especially if it's long, to make sure it's all evenly aligned for the trimmer.

Use the trimmer in a downward motion for a longer look, or in an upward motion for shorter.

Styling your stubble:

The classic stubble look (e.g. George Clooney) is even all over.

For the illusion of more defined cheekbones, leave stubble a little longer in the cheek area to give the impression of shadow, and blend it into the shorter jawline area.

Combo styles currently popular include: the "Billy Goat" (an extremely long goatee blended into shorter cheek and jaw stubble) and also the "Moustache Fade" (a slightly longer moustache area blended into shorter facial stubble).

Avoid perfect lines. Creating a line on your cheek or your neck between clean-shaven and The Perfect Stubble can make you look like an action-figure. Instead, fade the length into shorter stubble.

On the other hand, styles like "The Chin Strap" are also popular. For this one, The Perfect Stubble is styled into a precisely-lined shape across the chin, with thin "straps" up the jawline into the sideburns.
Expert Opinion
Michael Levine, owner of 3 salons in Vancouver and facial hair afficionado (if you saw the show, you'll remember he was sporting the "Billy Goat") had these tips for us:
If you've got the tools, it can be very easy.

You need a clipper with guards so you can customize the length as you go.

Easy rule to remember: if you use a downward motion with the trimmer, you're grooming (i.e. leaving it longer). If you use an upward motion, you're cutting.

Once you've got your length, just give it a once-over in a downward motion to keep it longer but stop it from projecting out like a porcupine.
Other Considerations
For a softer feel, consider using a beard conditioner.

Keep your face clean to avoid harbouring bacteria, which can lead to blemishes and infected ingrown hairs. Use a good cleanser, or even one with a bit of exfoliating action, which will help reduce ingrown hairs.

Since stubble borders on scruffy, try to dress the opposite, with preciseness. To make your Perfect Stubble pop, dress in crisp, light colours.
Be Aware
Stubble is not for everyone. If you try it, make sure you get some opinions from close, honest friends on how well it really suits your look.

If your partner doesn't like it, don't fight it. Save the stubble for days when you're apart instead!
TEST CRITERIA
To find out if one trimmer works better than the other, we recruited three facial-haired gentlemen to help us out.
Schick Quattro Titanium Trimmer(ergonomic, shower-safe, 1 AAA battery): $11.99

. .
Well.ca

Philips Beard Trimmer with Stubble Setting (9 settings, 1mm-18mm, maintenance-free): $44.95

. .
—

Wahl Lithium Ion Trimmer (4 different blades, 3 different guide lengths, other blades, 3-minute quick charge): $54.95

. .
Well.ca

(Note: prices listed above are approximate and in Canadian dollars)
Trim Test
The Schick didn't have much power and it would pull on the hairs rather than cut them.

The Philips gave a smooth trim and was comfortable to use.

The Wahl had way more options, which made it extremely versatile. (One tester really liked the short attachment that let him clean up the neck and sides area.)
OUR TOP PICK
The Wahl was the clear favourite for its versatility and power, even though it came with a the biggest price tag.