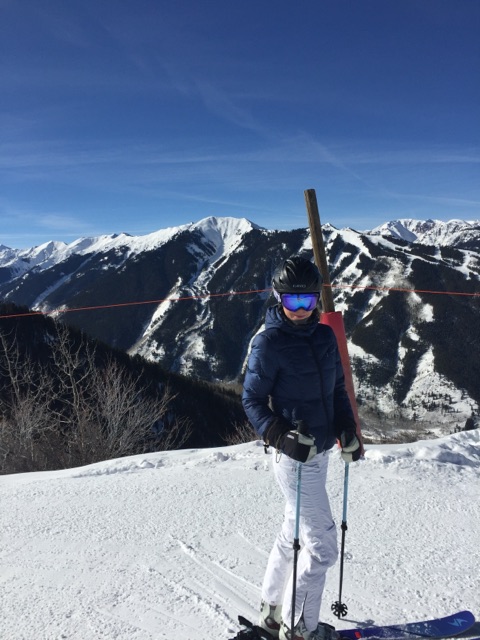 Time to Kill….in Aspen, Co
They call it "champagne" powder for a reason. Just like sipping those tiny bubbles from France, when you get the chance to ski through the light, dry powder Colorado is famous for, it'll make you giddy.
I know what you're thinking. Aspen is a stomping ground of Hollywood elite and whatnot, so it must be out of reach and pretentious. And sure, it might be a bucket list trip (especially with our Canadian peso), but it is anything but pretentious.
Unlike some other ski resorts that are big, soulless corporate developments,  Aspen came about organically. It was originally a hunting area for Ute Indians and grew into a silver mining town when the first white settlers arrived in the late 1800s. The skiers showed up in the 1940s and have been coming ever since.
And I know why. The snow transforms even the clumsiest hack into a graceful hero, effortlessly swishing down the mountain like you've been on skis every day of your life. No ice. No moisture. No heavy snow. So if you love to ski like I love to ski, you cannot leave this earth without visiting Colorado when the snow is flying.
Aspen vs Highlands vs Buttermilk vs Snowmass
You have 4 mountains to decide from in the Aspen area. Buttermilk is the "family mountain" with acres of runs for tots and beginners. Snowmass is by far the biggest, but it, Aspen and Highlands mountains are all comparable, with terrain for intermediate to advanced skiers. It's tough to pick a favourite but if I had to it would be Highlands for all those double blacks.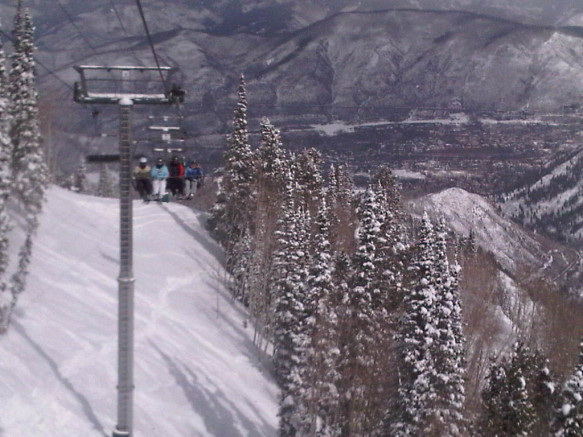 But of course it's not just about the skiing. The town itself is small enough to wander through in an afternoon. You will not need a car here. And if you love to eat the way I love to eat, Aspen offers up a better selection of restaurants than any other ski town, anywhere. It is world class by any standard.
Where to eat
For lunch on the hill you must, and I mean must, book a table at the legendary Cloud 9 (check out this youtube video). In the olden days people would ski off the roof. Recently renovated without losing too much of it's patina, it is an experience not to be missed. You will likely be too tipsy and full to ski after lunch. You've been warned. Wear a helmet.
Ajax Tavern is another fantastic option for lunch or an apres ski snack. Order the truffle fries and if it's not too cold wait for a seat outside, because that's the other thing about Aspen. It gets a lot of sunshine.
There are several bars around town that cater to the apres ski hours. You'll find a sophisticated and mature, but not at all boring crowd at The Little Nell. Across the street at the Sky Hotel is what I would call more of a Vegas bunch. And on the other side of town the newly renovated J-Bar at the Hotel Jerome, it feels like Ralph Lauren had his way with the place.
For dinner, it will be hard to choose. Don't miss out on sushi at Matsuhisa, part of the Nobu family of restaurants. And then there's Casa Tua where the risotto is divine and will fill the void brought on by all those turns. For an excellent French meal sit at the bar at Cache Cache. Jimmy's makes the best martini in town and in the mood for live music? The Belly Up bar is the place to be.
And a trip to Aspen is not complete without a cross-country ski or snowshoe out to the old school Pine Creek Cookhouse, where you will have a gourmet and hearty lunch, after which I promise it will take twice as long to ski back to town.
I've visited Aspen with various groups of friends and family over the years. From a rockin' good time to a quiet few days in the mountains, whatever your fancy you will find it here. I know I should check out out other ski resorts in the state, but I never want to miss the chance to return to Aspen. Why mess with perfection?
If you go, let me know what I'm missing from this list. It'll give me a reason to return. (Like I need one.)
Oh and one more thing, pot is legal in the state of Colorado. In case that matters to you.
Photo above: Me on my most recent visit, atop Ruthie's Run, Aspen Mountain