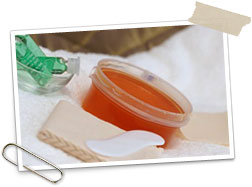 Waxing Kits
Saturday, 15 March 2008

Though shaving is quick and easy, it only lasts a couple of days, while waxing removes unwanted hair at the root and lasts for 3-6 weeks. You can take a trip to the spa, or you can wax in the comfort of your own home. We look for an at-home kit that stands out from the rest.
BUYING TIPS
The Basics
In addition to lasting several weeks longer than shaving, hair re-growth also appears lighter after waxing.

At-home wax kits come in many formats:

Hot wax is similar to wax used in salons, and can be pre-heated in the microwave.

Cold wax has no warming step and is less irritating to the skin.

Pre-waxed strips come ready-to-go on cellophane strips that you warm with your hands.

Roll-ons are self-applicating and generally go on more easily than wax from a pot.

Sugaring is the latest option and uses natural ingredients like sugar, honey and molasses. Its thick caramel-like consistency spreads on just like a wax, but washes off a lot easier.

Some kits require you to use cloth strips (usually included) to pull out the wax along with the hair. Other kits have you remove the wax itself with your fingers

Redness and skin irritation is normal.
TEST CRITERIA
We tested these wax kits with the help of some tri-athletes who go hairless for a competitive advantage in the water.
Wax Test
We were surprised that the Nad's system did the best job, though not without some mess.

Nair was second best at removing the hair, but number one for convenience and ease.

The Parissa wax worked well but the temperature was tricky to deal with – hot enough to be liquid but cool enough not to burn our skin.

The Veet strips weren't as effective as the others at removing hair.
OUR TOP PICK
The Nad's took first place for effectiveness. Nair was second best at hair removal, but so convenient it was worth a mention.