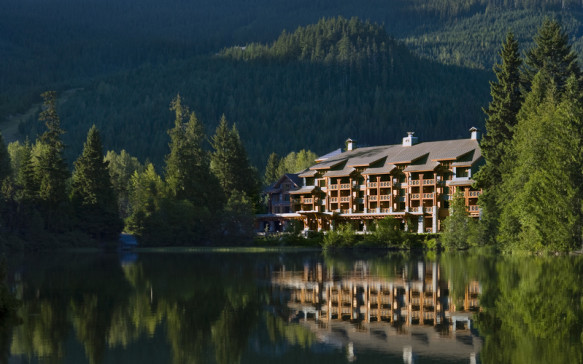 A room with a view
I am extremely particular about hotels. Well, I'm particular about a lot of products, but hotels are probably number one. I LOVE a great hotel. As in, I have fantasies about living in one. I see myself writing a book and letting a few months slip by, somewhere like the Beverly Hills Hotel in LA, Corinthia in London or Palazzo Manfredi in Rome. No grocery shopping to do, a freshly made bed every day and best of all, room service!
So I pride myself on my ability to see through misleading photos on hotel websites and pick the real gems. (Be wary of any site that has photos of a vase of flowers as part of its photo gallery.  Is that the best they've got to show you?  And always look for room square footage.)
I keep a running list of worthy hotels to hang my hat whenever I'm on the road.  The tough part about that is it means trying new places and not always getting to return to my favourite spots.
A recent long weekend in Whistler was one such trip, when we decided to stay at the Nita Lake Lodge instead of my usual haunt.  But I'm happy to report this is a resort you should consider the next time you travel to the area. Nita Lake Lodge is a quiet, family-friendly place (including the dog), nestled on the edge of, yes, a lake, at the southern edge of Whistler. Rooms are oversized, wifi is free, and so is the use of paddle boards, canoes and bikes.

There are three restaurants to choose from, which gives a little something for everyone.  The bar has a big fireplace and oversized furniture, and the bartender knows how to make a proper martini.  The deck overlooking the lake is serene and relaxed.  We were thankful for the respite from the overcrowded village.  The higher-end restaurant, Aura, was pretty good, although my omelet was overdone.  
The real gem of this hotel might be its cafe, Fix.  To-die-for pastries (THE best butter tart I've ever had), lots of gluten-free products, and really good coffee.  I love being able to scoot down first thing in the morning for a quick latte to go.  That option is always a plus for me at any hotel.
My only complaint is that when we borrowed a couple of bikes to ride to the village, both our chains fell off.  Talk about a buzz kill.  I guess free use means the bikes get a lot of use.  Thankfully the hotel shuttle was quick to pick us up.
At this time of year, prices at Nita Lake are comparable to the Fairmont Chateau Resort.  And while the latter has a popular bar and is located right at the base of the mountain, the rooms are shabby and in serious need of updating.  In the summertime, I'd rather have lake access.  If you can, buck up for a room with a view of the water.  You won't be sorry!
 
Next week, Kristina and I will be in staying at Toronto's Trump hotel and I will be sure to give it a run for its money.  It's currently rated as the top hotel in the city by TripAdvisor.  We'll just see about that.
Please share your favourite hotels at any price point, from anywhere in the world!
Photos courtesy Nita Lake Lodge