See Us On
Anna & Kristina's Grocery Bag
Scroll down for the episode list! Currently airing on OWN Canada and other networks worldwide.
Our award-winning series Anna & Kristina's Grocery Bag premiered in September 2008 and just completed a fourth season in 2012. In it, we conduct tests of cookbooks and kitchen products from the perspective of the average consumer. And remember, we're not trained chefs!
Our main goal: to see if the chosen cookbook delivers on its promises as we try to recreate the servings in the photographs and produce delicious, or at least edible, meals.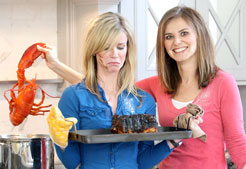 We start by reading our chosen cookbook cover-to-cover and trying out as many of the recipes as we can (aside from the ones we'll test on the show) in the weeks before we tape the episode. Then we set a date and invite a real gourmet chef over to taste test our results. Talk about high pressure!
We also test various kitchen tools and ingredients we'll need for our menus, with help from both experts and everyday people. Once we've figured out the best product for the job, we put it to use in our test kitchen on the big cooking day.
Then, based on our experience working with the cookbook before the cook day, the feedback from our guest chef-judge on cook day, and the final results we taste on the plate, we decide whether the cookbook earns the A & K Stamp of Approval.
Click play below for a taste of
Grocery Bag FAQS
Get Social!
Thanks for watching, everyone!
Anna & Kristina
(P.S. A note to our very special USA viewers: OWN has taken us off their USA schedule, but we're working hard on finding new options to bring all our shows to the USA. Stay tuned for details!)
Episode List
Season 4
(Open)
Season 3
(Open)
Season 2
(Open)
Season 1
(Open)
Sponsors