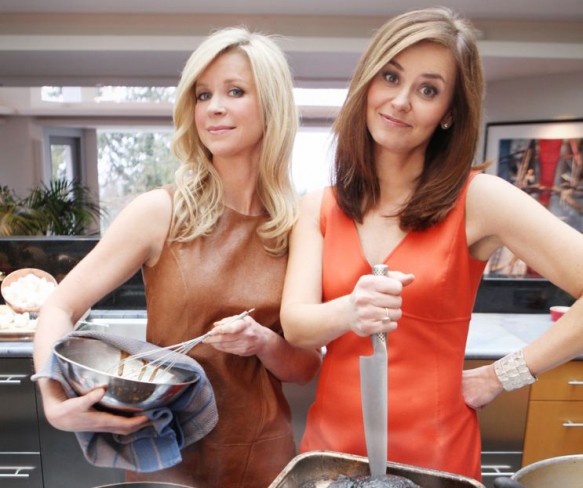 AnnaAndKristina.com
ABOUT US
We've never been afraid to try new things and fail, to make a mistake and laugh, or to face our fears. (And more often than not, to do it on television for the whole world to see!) We've dedicated our lives to putting products – and life – to the test. But through all the tears, laughter, pain, and joy, we have helped each other – and hopefully a few others – live life better.
Our business is based on friendship, teamwork and authenticity. We've always believed in breaking the rules, because there's more than one path along a joyful life.
In this space we'll put a real voice on all that is lifestyle. We'll be dishing on our favourite things, places, recipes and ideas – and we want to hear about yours. Nobody's perfect, but together we'll all figure it out as we go,
And although on TV it looks like we've taken on these challenges as a pair, the truth is, we have always done it with an entire team supporting us. Our on-set crew and our office staff are part of our network of friends, confidantes, and family. Every member of that group helps us get from one day to the next. 
But most of all, we have always felt supported in our trials and tribulations on TV because of the community we've seen grow over the last decade that we feel so lucky to be a part of – and that has inspired us to be make this site. We feel an arsenal of strong, savvy, independent, caring, courageous women and men surrounding the work we do, and it makes us more passionate about continuing to go out of our comfort zones on TV.
This site is a celebration of our community. It is a tip of a hat and raise of a glass to the women and men who go the extra mile to make smart decisions, who forge their own unique path in life, and most of all – support one another in taking an unfamiliar journey.
This site is not just for the shoppers – it is for the dreamers, the caretakers, the lovers, the adventurers, the builders, and the leaders – that lie inside all of us. And together, no matter how many times we fail along the way, we can all learn to live life a little better.