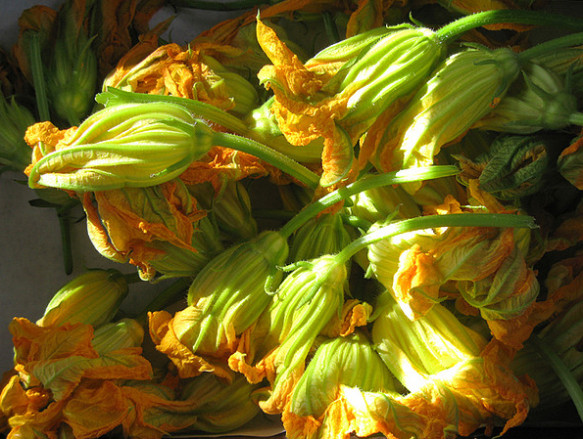 Dinner party diaries
If you're in a dinner party club, you know the one-upmanship and stress they can create. I've been in a dinner party club for the last decade or so. We meet once a quarter and take turns hosting. And while I'm lucky to be part of a group whose members don't try to outdo each other, I must admit I generally try to outdo myself. I feed off of making people happy with food. Just call me Monica Gellar.
Top photo by: SummerTomato
This week it was my turn.  With a week to prepare, I turned to Bobby Flay for a little southwestern inspiration.  His recipes often take days to prepare but are almost always worth it.  I had the time it would take to run around town tracking down pasillo peppers and thai limes and decided to dive in.  I love a dinner party project.
My menu:
Margaritas

Guacamole

Deep-fried squash blossoms stuffed with ricotta, cojita cheese and roasted corn

Frisee salad with chorizo and asiago

New Mexican Rubbed Pork Tenderloin with Bourbon-Ancho sauce
I chose squash blossoms because they're in season throughout the summer. Flowers typically come from some types summer squash, as well as zucchini. They're usually removed by the time you see them at the store. 
But this recipe also presented my biggest challenge. While I'd eaten blossoms in restaurants before, this is not a place I'd been to in my own kitchen.  And I generally try to avoid deep frying when there are more than a couple people coming over. (This party consisted of 7).  Any more than that and I worry about the fried food getting cold since everything has to be made in batches.  That, and any seasoned dinner party host will tell you to never try a recipe for the first time with guests. Especially if you're unfamiliar with the ingredients.  But if you've seen my show, you know I live for such a challenge.
I visited my local Whole Foods, as well as another gourmet market a week before my dinner to have a look at some blossoms.  No luck.  Squash blossoms need to be eaten the day they're picked, which is why most stores don't stock them consistently.  
So I went online and found a few farmers in the area.  Calling farmers directly?  This was a first for me.  I left 4 messages at 4 different farms and what amazed me is that every single one of them called me back.  Remember, I'm not some restaurant ordering big volume.  I wanted a couple dozen blossoms and these things only sell for about .60.  If this is what working harder in the modern era looks like, then the modern era ain't all bad.
So after talking to a farmer named Dave, my blossoms were on hold for me at Trout Lake Farmers Market last Saturday.  The blossoms looked beautiful!  And intimidatingly delicate. 
(If you find yourself in Vancouver on a Saturday morning, the Trout Lake Farmers Market is a must for any foodie.  The produce is absolutely the best.  This is where you'll find me in the coming weeks whenever I'm cooking.) 
One thing Flay's recipe doesn't tell you is how to get the cheese mixture into those fragile flowers.  Well, he does say to use a spoon, but that just doesn't work.  The petals are thin and tear easily, and are maddeningly difficult to separate. I was working myself into an anxious sweat. Guests were due in an hour, I had 24 flowers to stuff, and I still had to vacuum! My BF suggested a pastry bag and…bingo!  While it was still a labour-intensive and time-consuming project, that was definitely the ticket.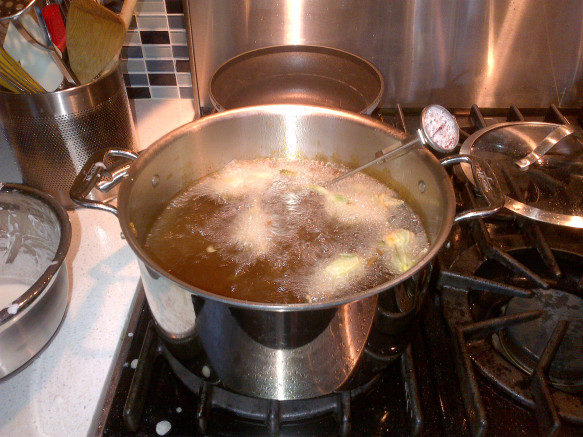 I used a big pot for frying, which allowed me to get enough blossoms in each batch so each round had enough for all guests. The end result?  YUM.  The light batter and filling of ricotta and cotija cheeses along with roasted corn and basil went really well with the margs. (Although I do think I went a little light on the salt.)  Most of all, everyone appreciated cooking ingredients that are in season.  And the great thing about cooking for a bunch of foodies is they always know the effort you went to.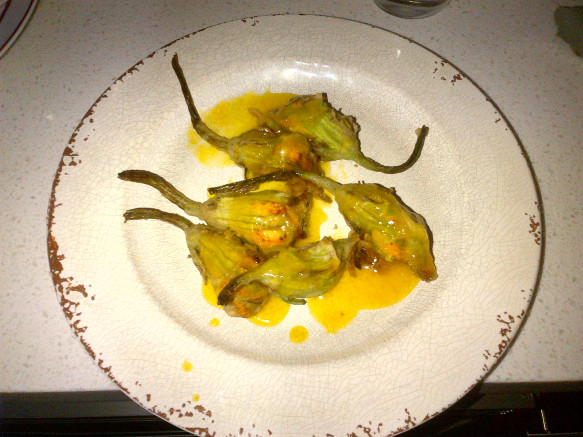 My dinner party club meetings generally take days to recover from.  This group isn't made up of teetotalers.  Me, I think I was the best off the next morning as I passed out early on the sofa from blossom-stuffing exhaustion (and perhaps one too many margaritas).
As always the best lessons from any dinner party are to always cook what's in season, accept help from your guests, and don't take any of it too seriously.  I'm still working on that last one.
P.S. I was at THE dinner party of the season — Araxi's Longtable Series — on Saturday, August 3, and squash blossoms were on the menu! You can still get tickets for the August 17th dinner in Pemberton, BC. Definitely an event not to be missed.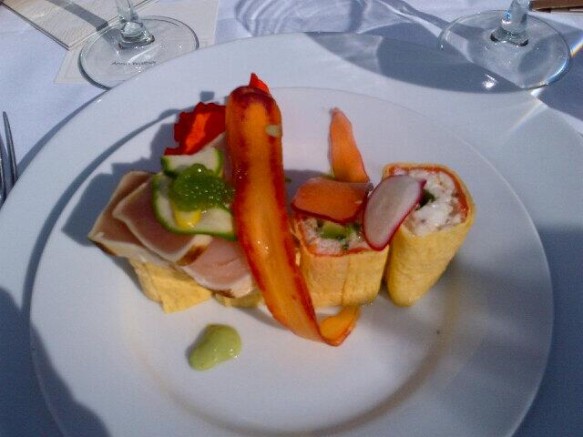 August 3 Araxi Longtable first course – phenomenal!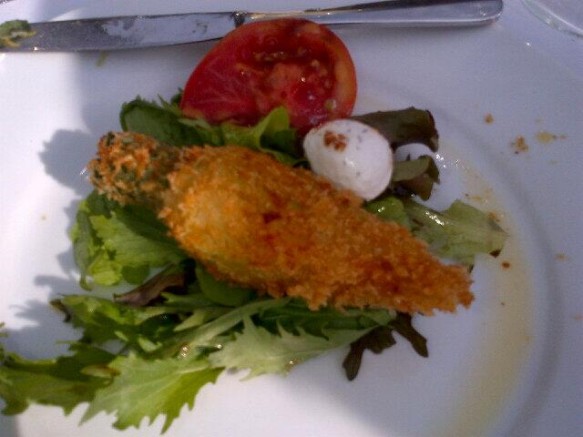 August 3 Araxi Longtable salad course: Now that's a squash blossom!