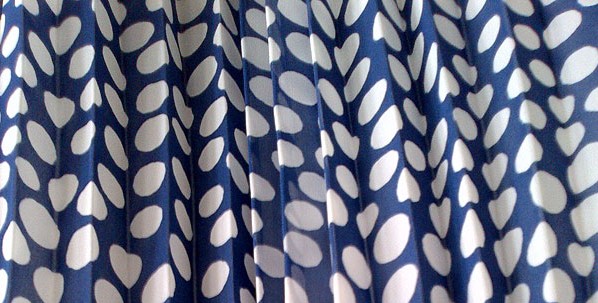 Dress Distress: Check the checkout before you buy
It may say "Spring" on the calendar but the season has not yet sprung here in BC. Despite the prevailing chill, I'm longing for a warm weather wardrobe injection. The shops are an array of bright, bold colours, flirty skirts and jeans in every colour of the rainbow. How can a girl resist?!? (Turns out, a girl can't.) But doing your shopping homework first can save you big, especially when shopping online.
I found the cutest polka dot dress by designer Trina Turk at a local store. It's the perfect blend of feminine and flirty. With a cardigan, great for work. With a pair of strappy heels, just the thing for a summer's evening out. Clearly, this was the perfect dress and I wanted it. Bad.
At $430, the dress was an investment. And with the tax, ouch! I turned to the web for a game of "Can I find it for cheaper?"
Turns out, the Millicent dots print dress, in Blueberry, is widely available for about $348 US. As any online shopper knows, when you're buying online, there are still the taxes, duty and shipping/handling charges to consider. When it came to my dress, the price differences between websites were pretty significant.
At the Trina Turk store, the dress total came to $525 Canadian. Yikes! Moving on. At Bloomingdales, the total price was $495 even though the shipping was "free".
Things got a little better at Amazon.com, ringing in at $462. After a much additional investigation, I found it at Piperlime. (An online store that carries dozens of brands.) The dress, all in, was $432. Eureka!
Shipping costs are discretionary and up to the merchant and delivery service. Duty is determined by the type of product, where it's made, and its value. In fact, as this dress is made in the US, duty isn't supposed to apply. And taxes, of course, non-negotiable.
Big costs and inconsistencies come in "brokerage" fees and exchange rates. With the former, courier companies and postal services charge you to get the package through customs. They also often throw in a disbursement fee – a charge for prepaying the duty for you.
And exchange rates? While the Canadian dollar has been hovering around or even above par, certain retailers are still charging some pretty steep rates. In one case, quite a bit more, like $397! (I'm not naming any names but it rhymes with Zoomingdales.)
Clearly, it pays to shop around. Don't just compare prices between one site and the next. Go through the check out process (up to the point of paying) to see how these charges are stacking up.
My dress arrived yesterday and I'm more than happy with my savings. Now I just have to wait for warmer weather. Until then, I wonder if I can track down those adorable orange ballet flats I saw…