Drug(store) Money
If there is one store I frequent more than any other, besides grocery stores that is, it's the neighbourhood drugstore. Whether I'm shopping for tinted moisturizer, toilet paper or sugary treats, I pop into a drug store about once a week.
I've spent $650 dollars at drugstores already this year (the accounting software Quicken allows me to keep track of such things. I'm a big fan) so it's a sizeable chunk. Since my need for shampoo and dishwashing detergent isn't likely to dissipate, I want to make sure I'm spending those dollars as wisely as possible.
The two biggest players in my city are Shoppers Drug Mart and London Drugs.
Shoppers Drug Mart (known as Pharmaprix in Quebec) has over 1240 stores in nine provinces. The focus here is on health and beauty products, with a smattering of food and household items. Some of the larger stores rival the beauty counters at most department stores.
London Drugs is a Western chain found in four Canadian provinces: BC, Alberta, Saskatchewan and Manitoba. With 75 stores in over 35 markets, it sells beauty and health products too, and also a wide selection of household goods, including kitchen wares, computers and electronics.
While London Drugs may carry a wider array of goods, Shoppers Drug Mart does have an added incentive: its loyalty program. With Optimum Rewards, you get 10 points for every dollar you spend. Once you reach 8,000 points, you get $10 off. 22,000 points gets you $30 dollars off.
This sounds like a good deal until you consider that you need to spend $800 in order to get $10 back. That's a lot of moisturizer. (Shoppers does offer 10X or even 20X point specials on select products on certain days.)
Both stores offer specials on a regular basis. Unfortunately, most of us don't have time to run from store to store to compare prices and Shoppers Drug Mart doesn't offer online shopping for easy comparisons.
I also decided to look into Well.ca, "Canada's online drugstore". It has the convenience of online shopping, but you don't have the benefit of being able to touch and smell beauty products, and your purchases can take over a week to arrive.
In order to see which drugstore offers the best prices, I donned my trench coat and deerstalker hat (no, not really) and went to investigate. Here's a comparison of 12 random products found at all stores: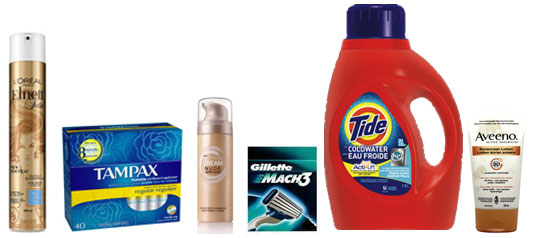 | | | | |
| --- | --- | --- | --- |
| Product | London Drugs Price | Shoppers Drug Mart Price | Well.ca Price |
| Aveeno 30 SPF Sunscreen | $15.99 | $17.49 | $15.99 |
| Complete multi-purpose contact solution (2 x 360ml) | $19.99 | $20.99 | $13.99 (1 x 360ml) |
| L'Oreal Revitalift Wet Cleansing towelettes | $11.99 | $14.49 | $14.99 |
| L'Oreal Vitamino Color Shampoo | $23.99 | $19.99 | (not available) |
| Maybelline Dream nude Air Foam Foundation | $15.99 | $16.99 | $14.99 |
| Tide Coldwater high efficiency detergent | $8.99 | $9.99 |  $9.99 |
| Elnett Hairspray | $14.99 | $14.99 |  $14.99 |
| Gilette Mach 3 blades, 8 pack | $22.99 | $28.99 |  $24.99 |
| Extra strength store brand Ibuprofen, 72 | $9.99 (London Drugs brand) | 12.99 (Life Brand) | (no store brand available) |
| Nicole by OPI Topcoat nail polish | $9.99 | $10.99 | (not available) |
| Lancome bifacil makeup remover | $35 | $35 | (not available) |
| Tampax tampons 40 regular | $8.49 | $8.99 | $9.29 |
With one exception, the shampoo, all the products I checked either cost less, or the same price at London Drugs than at Shoppers Drug Mart. In some cases, like the razor blades and cleansing towelettes, considerably less.
As for Well.ca, while they don't carry all the products I compared, a lot of the prices were comparable to London Drugs. They also have a subscription service you can set up to auto-ship your favourite products. And, the best part, shipping is free.
I'm not crossing Shoppers Drug Mart off my list as they do carry some hard to find brands and products, like Gosh lip gloss, one of my favourites. And sometimes, what's closest is the most practical when you take fuel and parking costs into consideration. But it is a reminder that keeping a close eye on those price tags can pay off and save you money.
It will be interesting to see what US giant Target does to the drug(store) wars when it comes to Canada next year. Undoubtedly more competition will mean even better prices for consumers.