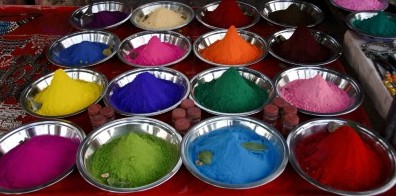 Dyeing for change
I'm the queen of cleaning out my closets and getting rid of stuff. Anything that doesn't fit anymore, looks dated, is damaged in any way or hasn't been worn in over a year, I donate to charity or sell at a second hand store. Every once in a while, these purges uncover a piece that isn't quite right but that I'm unable to toss.
Case in point: last year, I ordered a cashmere sweater from the J Crew catalogue. In the picture, it appeared to be the prettiest and most delicate shade of dusty rose.
But when it arrived, it looked more like Pepto Bismol. Urgh, and it was expensive too! 
I wore it a couple of times, only to tear it off as soon as I got home. I haven't seen eye to eye with baby pink since the early 70s.
That's when my crafty juices started flowing. Since this is as common as a solar eclipse, I had to seize and harness the impulse. It was time to get dyeing!
I've dyed clothes before, but only sturdy materials. Cashmere was a whole other ball of wool. I went online to research it and phoned a few wool shops for advice. They advised against it. Dye works best in the hottest possible water.
Rarely one to be discouraged by mere facts, I decided to take the risk and try dying it with Rit dye powder. It's inexpensive and readily available at many drug stores. Few things speak to me as loudly as the words "cheap" and "hassle-free." I'd dye it in cold water and take my chances.
Optimistically I bought black dye, but was willing to settle for, well, a sweater that was anything but pink. Two packs of dye and a good long (2 hour) soak in the dye bath later, my sweater was a lovely shade of something unexpected. Pink + black = taupe. At least when it comes to this particular cashmere sweater. Who knew? Considering taupe is definitely my new grey, which used to be my new black, I was quite pleased with myself.
What else in my closet was dying for a makeover?
Next up were a pair of overly faded black jeans that were headed for the donation bin. Now, restored to their original shade, they'll live to see another year.
This old arm-pit stained white t-shirt? Grey it is!
Now I was ready to tackle my biggest fashion faux-pas. My favourite bathrobe. Many of us have such a security blanket in our closets. Cozy and warm, but unfortunately, fairly hideous in all other aspects. Imagine if you will – me, in the robe, plus Velcro rollers, plus fuzzy slippers. I was one hot prize! It was time for a change.
Sadly, as we all suspected, there is no help for polyester. Some fabrics, like Spandex, acetate and yes, poly, won't take a dye like Rit and I wasn't willing to cross the cheap/hassle-free continuum to look for another product. Some clothes are simply not worth saving.
Dying garments is an easy and cost effective way to breathe some new life into your wardrobe. If you're hitting the dye vats, here are some things to keep in mind:
Natural fabrics like cotton and silk tend to hold dye best.

Wear gloves. Even when you're opening the dye pack and mixing it.

As per above, dye in the warmest temperature water possible. I dyed the sweater in cold, with a good splash of warm thrown in. Though pleased with the results, but it wasn't anywhere near the colour it was supposed to be. Warmer water would likely have made a difference.

When it comes to dying clothes in the washing machine, don't forget to set aside time to clean the interior of the machine after. It can be a mess.

Dying in a bucket or pail works, but make sure you stir the soup regularly to ensure the dye sets evenly.

If you're trying to reach a very dark shade, use at least two packs of dye. 

Rise the garment until the water runs clean before you wear it. And as an added precaution, wash it alone the next time it hits the laundry bin. 
For more dying tips check out: www.ritdye.com. I'd love to hear about your dyeing successes!
On 01 27, 2012 at 08:10:53 AM, Susan B. said:
I have been dyeing stuff with Rit for years, mostly successes some not. I tried to dye a white cotton shirt that I had used Javex on to rid a stain. The shirt came out fine, but not where the Javex had been applied. The other blooper was a white comforter that I tried to dye dark green. I didn't know it had polyester in it and it came out barely green, mostly still white. One question…can you use Rit in a front load washing machine? I used to use my top loader and it worked fine.

On 01 27, 2012 at 01:21:31 PM, Kristina M. said:
Hi Susan! I wouldn't recommend dying clothes in a front loader. I've found best results when the garment is able to soak in the dye bath for an extended period of time. With the top loader, you can fill up the drum and then let it sit, swishing it around periodically. Front loaders use a lot less water and I'd be concerned that there wouldn't be enough liquid in the tub to completely cover the items. Plus, at least with my front loader, it's more difficult to stop the cycle and thereby let the clothes sit. 
Kristina
On 02 20, 2012 at 05:41:36 PM, Nicole K. said:
Hi Anna and Kristina! I am a really big fan of yours and I always make sure to watch all of your shows! Keep up the great shopping! And cooking! Nicole:)
On 2 23, 2012 at 10:54:52 AM, Kristina M. said:
Hi Nicole! Thanks so much for watching. We'll be starting up Grocery Bag again very soon. Season 4, here we come! 🙂
On 05 7, 2012 at 12:24:33 PM, Bobbi C. said:
Thank you for this blog!!!You really inspired me and I like you, loooove cheap,especially when no one can tell.So I found a baby pink cashmere twin set in mint condition at a second hand store for $40.I bought it with the intention of dyeing it,and now I have a beautiful fushia t-shirt and a lilac cardigan!Thank you for the inspiration,I love what you guys do and have been watching forever.Now I refer to the website before all my shopping trips.