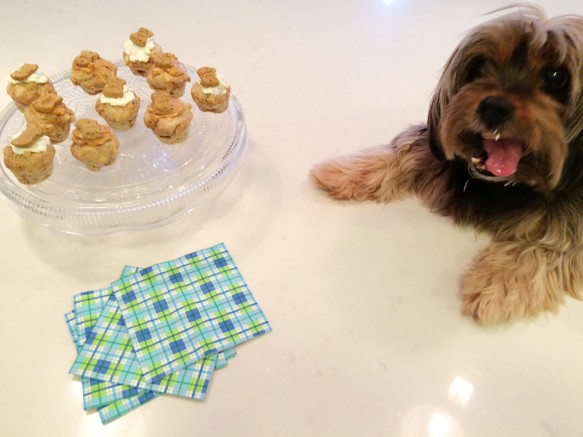 Easy Peasy Pupcakes
As anyone who owns a dog knows, the furry little buggers can cost you a lot of money: food, toys, grooming, dog-walking, daycare, vaccinations, not to mention dealing with any health issues. It can REALLY add up.
In honour of upcoming National Cupcake Day this February 29th, I'm sharing one way to cut down on at least one of those line items: do-it-yourself dog treats!
For those who don't know, National Cupcake Day™ is a fundraiser for SPCAs and Humane Societies across Canada, with funds going to help care for abused, abandoned and neglected animals. (I'm the spokesperson for the event.)
You can register for free at www.nationalcupcakeday.ca. Then, the idea is to bake cupcakes and hand them out to family, friends and co-workers any time between now and February 29th, in exchange for a donation. I like to think of it this way: instead of walking or running to raise money, you'll be baking a difference.
Most bakers who take part whip up traditional cupcakes. Makes sense, since we humans tend to have deeper pockets than our canine companions. But as I like to ensure that my furry friends are included in the festivities, I rustle up some pupcakes as well.
This recipe is foolproof and uses healthy, human grade ingredients.  I've had one.  I'm not going to lie.  Not awesome.  As per the top photo, Ruby seems to like them. But don't take her word for it: check out what Denzel thought of them when I served them on Breakfast TV yesterday!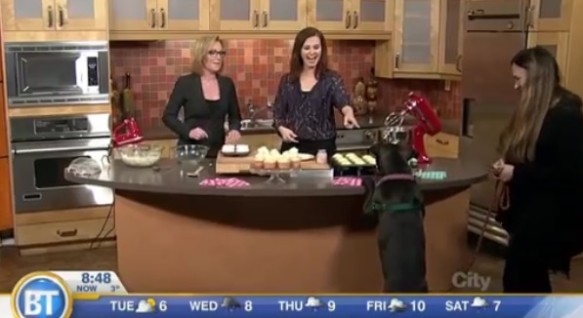 Apple Pupcakes
As with any treat – for people or for pups – serve in moderation.
Ingredients:
2 ¾ cups water
¼ cup unsweetened applesauce
¼ teaspoon vanilla
4 cups whole wheat flour
1 cup dried apple pieces (you can also use fresh fruit)
1 tablespoon baking powder
1 egg, beaten
4 tablespoons honey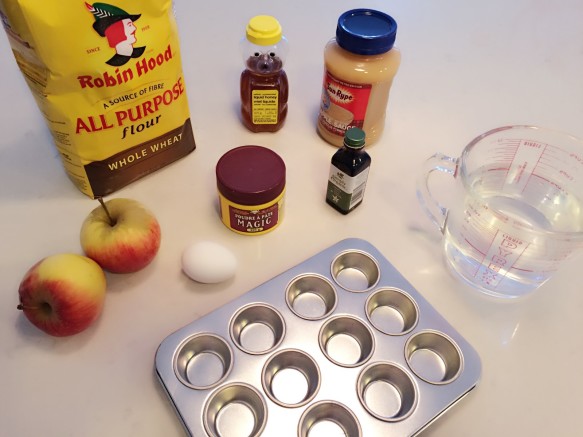 Frosting:
Cream cheese or peanut butter
Doggy treats or dry dog food (optional)
Method:
Preheat your oven to 350°
Spray cupcake tin with cooking spray.
Mix wet ingredients thoroughly. Combine dry ingredients in a separate bowl.  (Are apples wet or dry? I went with dry… That's the beauty of cooking for dogs. IT DOESN'T MATTER!)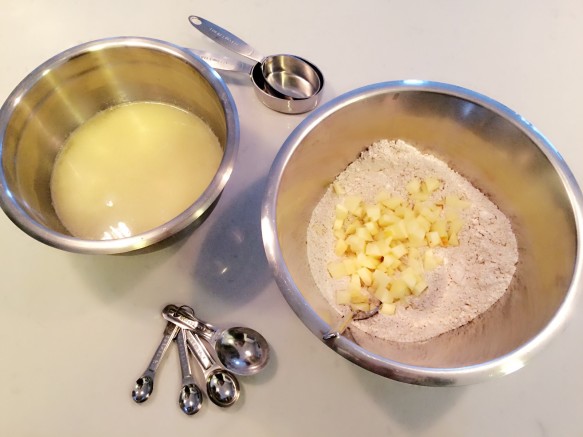 Add wet ingredients to dry ingredients slowly, scraping well to make sure no dry mixture is left. Pour into cupcake tins.
Bake for 30 minutes.* Insert a toothpick into the centre and if it comes out dry, they are done. Cool completely.
Use a knife to top with cream cheese, peanut butter or leave plain. Top with doggy treats or a piece of dry dog food, if desired.
Store in a sealed container.
Makes 12-14 large cupcakes or approximately 36 mini-pupcakes
*If making mini pupcakes, bake 15-18 minutes