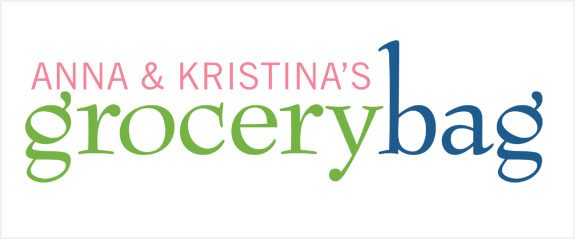 My Father's Daughter
By Gwyneth Paltrow
Season 3 Episode 65
You wanna hate her, but she's just so darn nice! Sure, Oscar-winner Gwyneth Paltrow can act and sing, but can she write a cookbook? Our final Grocery Bag season 3 episode takes a look at Gwyneth's brand new cookbook "My Father's Daughter" to see if we can finally find something to dislike about this Hollywood darling. (Don't worry, we'll be nice.)
Our menu:

Cold Pea & Basil Soup
Hot Nicoise Salad
Duck Ragu
Vietnamese Prawn Sandwiches
Lalo's Famous Cookies
My Favourite Homemade Hot Fudge

Also featured:

Chapters-Indigo
Amazon.ca

Amazon.comBarnes & Noble

Anna says:
I am a big Gwyneth fan. Love many of her movies. She's an Oscar-winning actress, and she can sing, and she's hot, and she's a mom, and she's married to a rock star? It's like: "Hello! Can I have your life?" I was curious to see if the recipes actually delivered.

In addition to the recipes from our big cook day, I made several other recipes to test this book, including oatmeal raisin cookies, the fudgy brownies, the rotisserie chicken, guacamole, and the crispy potato and garlic cake. Everything turned out well. 

One of the main messages of the book is the importance of eating together with family and friends. Paltrow also makes a clear effort to make her recipes relatively healthy. I like those two messages. I also like the fact that the recipes are all pretty easy to follow, and they're clearly well-tested. 

At the beginning of each recipe, she includes stories about where her recipes originate from. Usually I don't like it when authors do that because I often don't care. But with Gwyneth, I do care. I mean she's Hollywood royalty, so I liked reading about her time on set with her father, and how a recipe originated from when she cooked with Jamie Oliver, and how her mother always makes cookies for the kids. 

This book is full of ingredients that I'm not used to cooking with, especially considering the dishes are mostly North American fare. For example, the duck recipe called for duck bacon, which we had a hard time finding. There's also ingredients like brown rice syrup, spelt flour, and Vegenaise (vegetarian mayonnaise). You can't always find them at your local grocery store. You have to live in a city where you have access to all these things, or be prepared to send away for them.

I would buy this cookbook for the chapter on desserts alone. Not only are they relatively guilt-free, it doesn't sacrifice flavour. That, and her section on how to stock the pantry, which is full of alternative ingredients that I am not used to cooking with — brown rice syrup, spelt flour, Vegenaise; I will definitely be cooking with them again. Finally, I love her message about the importance of celebrating with friends and family. I give this cookbook a BUY.

Kristina says:
There's no question that Gwyneth Paltrow is passionate about food and cooking, what with her TV series with Mario Batali, and this cookbook. She clearly loves the journey from farm to frying pan.

I am a Gwyneth fan. Not only is she an actor and a singer, she's happily married and her family is all perfect, and she cooks fancy meals for them all the time. You wanna hate her, but you can't because she seems so gosh darn nice!

I was a bit skeptical in the beginning because I have read about Gwyneth going on the raw diet and exercising like a maniac. I just figured she wasn't the kind of girl who ate very much, so what is she going to know about cooking?

When I began to read the book and look at the recipes at home, I started to realize she actually eats real food! Without being preachy or coming across as a diet expert, Paltrow gives genuine advice about healthy eating, alternative ingredients, and avoiding red meat.

In advance of our cook day, I made some additional recipes, including the Italian chop salad, stir-fried chicken, fried rice with scallions and kale, and healthier blueberry muffins. I really liked everything I made.

I didn't find a lot of the recipes particularly difficult, but they can be time-consuming. Plus, there are a lot of alternative ingredients in this book. When I made those healthier muffins at home, I had to buy two kinds of spelt flour, maple syrup, and agave sweetener. It can get pretty costly.

I really like the recipe selection in this book, the way they recipes are written, and the way the book is laid out. Most importantly, almost everything I tried was really tasty. Plus, since our cook day test, I have actually gone back to this book and made many more things. To me, that's the most telling thing! I am giving this cookbook a BUY.
Is this cookbook A&K-Approved?
Yes. We have to hand it to Gwyneth. She's definitely a triple threat! This is not just a cookbook that's endorsed by a celebrity, it's Gwyneth Paltrow's personal collection of family favourites. We definitely think My Father's Daughter is worth your money.
Our Guest Chef
A native of Bend, Oregon, Brian Malarkey lived a cowboy lifestyle, growing up on a horse ranch and spending summers on the Oregon coast. He was inspired by the cooking of his grandmother in her beach house kitchen, where her old friend and famed foodie, James Beard, often joined her.
After being seduced all his life by the fresh seafood and abundant produce that the Oregon countryside has to offer, Brian enrolled in Western Culinary Institute's Le Cordon Bleu Cooking School in Portland. From there he went on to learn under many noted chefs, and earned many awards for his establishments, and himself.
In July 2010, Brian opened his first restaurant, Searsucker, to great fanfare. Located in the heart of San Diego's bustling Gaslamp district, Searsucker is a haven for New American classic cuisine.
Brian's passion for food and entertaining is the driving force behind his pursuits in both the culinary and entertainment industry. Read more about Brian at www.brianmalarkey.com and www.searsucker.com
Chef's Beverage
To enjoy with our menu, Chef Malarkey brought a 2009 Spy Valley Sauvignon Blanc ($19.99/750ml) from New Zealand, which he describes as a food-friendly wine.
Chef's Recipe
Brian Malarkey shared with us his spicy recipe for delicious Screaming Shrimp and Dirty Good Grits. 
Related Links