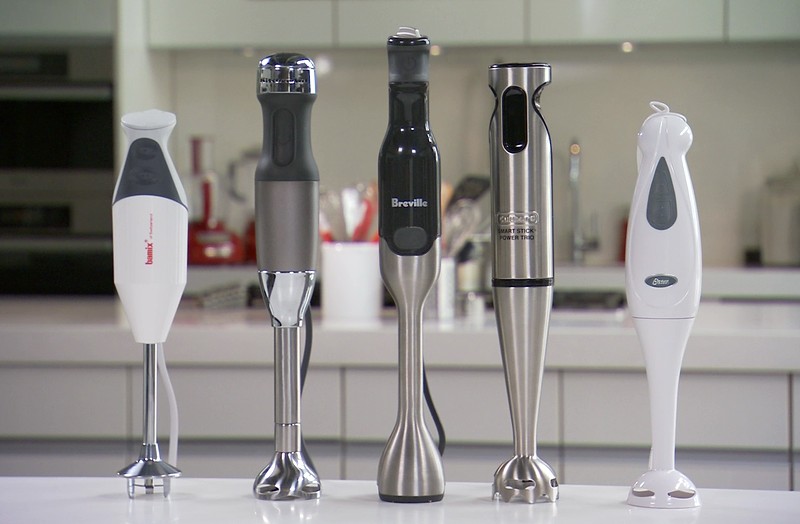 Immersion Blenders: Stir It Up
Quick, handy, and powerful, an immersion blender is a popular tool in many kitchens for its time savings, ease-of-use, and quick clean-up. Great for everything from smoothies to soups, immersion blenders aren't all created equal. We put a selection of popular brands to the test to see which one stirs up the best.
The Basics
Also going by the names of stick blender, wand blender, hand blender, or bermixer, an immersion blender is a hand-held appliance most often used for pureeing soups, emulsifying sauces, beating eggs, or blending smoothies.

Immersion blenders, like its other names, resemble a long stick or wand, commonly with a 10-12″ shaft. Some professional kitchen models can be up to 2 feet in length!

At the bottom of the shaft, the "business end" of the blender, are the blades, most often designed with a protective cage surrounding the sides, while the very bottom is open.

The power of the motor produces a swirling vortex similar to a conventional standing blender.

Some models can have multiple speed settings, but most come with just two – low and high.

Look for an immersion blender with a handle that fits your hand comfortably, since you may often need to hold it or maneuver it for short to longer lengths of time.

Also be sure you can hold it comfortably while pressing the buttons, since most blenders require you to keep your finger on the button during use. 

If it feels heavy when you first pick it up, think about whether it will be too heavy for you to hold and maneuver for a few minutes. If so, you may want to find a lighter model.

Some models come with extra attachments or features, like mixing beakers, other chopping blade assemblies, or a whisk for beating.

While they are quite handy, immersion blenders can't match the speed or power of a countertop blender or a food processor, so don't overwork it with tough jobs or you could burn out the motor.

Detachable blades or shafts are handy for easy clean-up. Be sure your immersion blender is dishwasher safe.
TEST CRITERIA
We took 5 immersion blenders into the A&K Test Lab and compared their performance against each other for various tasks. We tested:

Oster Hand Blender (with blending cup): $17.88 
2 speed, measuring/blending cup

 
Amazon.ca
Amazon.com

Cuisinart Smart Stick® PowerTrio™: $89 
4 cup bowl, 2 blades, whisk attachment

 
Amazon.ca
Well.ca
Amazon.com

Breville Control Grip Immersion Blender: $90 
Bowl, jug, whisk attachment

 
The Bay
Amazon.com

KitchenAid 5-Speed Hand Blender: $119
5 speeds, 5 attachments, dishwasher safe attachments

 
Amazon.ca
Amazon.com

Bamix SwissLine White Immersion Hand Blender: $299
3 blade attachments, 2 speeds, wet/dry

 
Amazon.ca
Amazon.com

(Note: prices above are approximate and in Canadian dollars.)

 

Length comparison

Since immersion is the name of the game, we find out how deep these immersion blenders will go: 

Oster came up short with its small size, though if you're short on storage space, this may make up it.

Breville, Cuisinart, and KitchenAid all tied for second at about the same submersion depth.

Bamix is fully sealed and be submerged the furthest with its long shaft.

Blade Test

We pureed a mix of vegetables with each blender for exactly 15 seconds to find out which one performed best.

Cuisinart produced the smoothest blend, followed by the small-statured Oster. 

KitchenAid and Breville required more time to create a finely pureed mix.

The Bamix performed the worst in our 15 second puree test, with many large chunks still requiring work.
OUR TOP PICK
For the smoothest blend and deepest reach, the Cuisinart was our top pick in this product comparison.