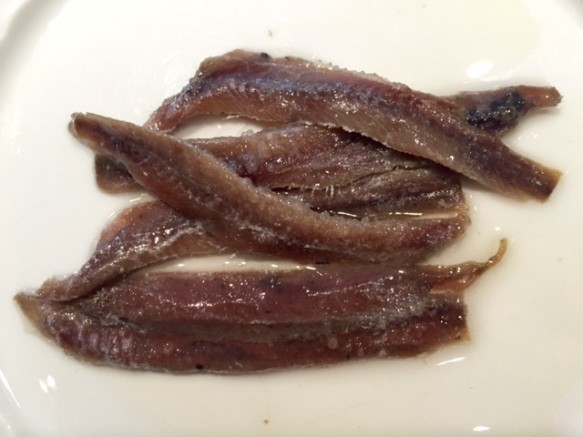 In Defence of the Anchovy
Anchovies get a bad rap. Many people turn up their nose when the little fishes come draped across the top of a pizza or salad, as though they're not meant to be there. Like a hair or a slug. But if you want to make and eat the tastiest food you're going to have to learn to cook with these little guys. And my bet is you already love them. Because they're there, in your favourite salad dressing, in your Worcestershire sauce and they're probably the X-factor in that delicious plate of pasta at your favourite Italian restaurant.
Anchovies are small (around 5 cm long) salt water fishes found in oceans around the world, but are most common in temperate waters that aren't too warm or cold. The curing process creates the strong flavour and smell of the typical anchovies you get at your local grocery store. But when served fresh they're very mild and definitely a menu item to search for the next time you're in Italy, Greece or Spain, as they are abundant in the Mediterranean. (It is very rare to find fresh anchovies for sale in North America due to low demand and because they are highly perishable. If you find them and they're super fresh, buy them and invite me over for dinner.)
The traditional method of preserving anchovies is to gut and salt them and allow them to mature in a brine, leading to that pungent flavour and the flesh turning grey. When at your specialty grocer (or traveling), look for anchovies packaged in vinegar as it creates a milder flavour and keeps the flesh white. They are divine on toast with olive oil. I dare you to try it, all you anchovy naysayers.
In North America your choices will generally be anchovies packaged in salt or oil. There is also anchovy paste, which should be avoided. It is the most processed of all options and in my opinion, tastes gritty and vile. For what it's worth, my favourite is Ortiz brand anchovies in oil, from Spain. If buying a can, never store anchovies in their can after opening as they will take on a metallic taste.
To start getting to know anchovies, try adding them to mayonnaise or room temperature butter and spreading on toast topped with poached eggs. Or throw a few into your next tomato sauce when you're making homemade pizza. I've been loving the following sage-lemon-anchovy linguine for a quick and casual supper.
ANCHOVY LINGUINE
Ingredients
1 package dried linguine
5 anchovy filets, packed in oil
7 or 8 sage leaves, chopped
4 shallots, chopped
2 cloves garlic, minced
juice of half a lemon
1/2 teaspoon dried chili flakes (or more if you like heat)
parmesan cheese, grated
olive oil
sea salt
Method
Bring salted water to a boil and cook linguine al dente. Meanwhile, heat 3 tablespoons olive oil in a pan over medium heat. Add anchovies, garlic, shallots, sage and chill flakes and cook until the shallots are caramelized, about 5 minutes (the anchovies will kind of disappear). Add lemon juice and season with salt. Toss with cooked linguine, sprinkle parmesan cheese over top and drizzle a little extra olive oil before serving. Voila!
If you have any favourite anchovy brands, tips or recipes please share them!