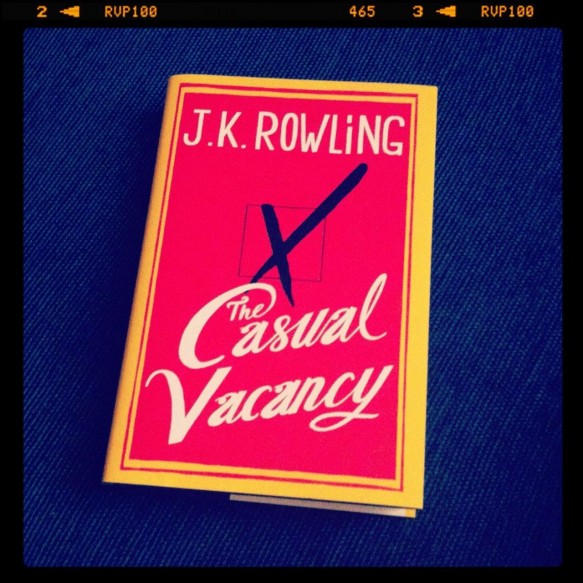 Lacking Potter's Magic
I'm a huge Harry Potter fan. I read each installment the minute it came out and saw all the movies, some more than once. The series had it all: an original story with memorable characters, a twisty plot, and a richly imagined world into which I was eager to immerse myself.
When J.K. Rowling's "adult" book, The Casual Vacancy
, recently came out, the reviews were less than flattering.  I was not deterred.   With expectations so high, how could Rowling ever come close to matching the magic of Potter?
The Casual Vacancy takes place in the town of Pagford, in jolly old England.  One of the parish councilors dies, and fighting over the recently vacated seat brings out everyone's nastiest characteristics, not to mention that they're a fairly miserable bunch to begin with.  The dead councilor was apparently the only decent person in town.
Not much else happens for the first 250 pages.  I ended up plodding my way through to the end, much in the same way that I finished some required reading at university. (If I can finish Moby Dick and War and Peace then surely The Casual Vacancy cannot be my undoing.)  
Things do pick up.  (Spoiler alert) Some of the townsfolks' unsavory foibles are exposed after someone makes anonymous posts on the council website.  No good comes of this.  It was kind of like watching an excruciatingly slow, 500 page car crash.
Rowling did have big shoes to fill, her own.  With The Casual Vacancy, it feels like she's tried to create a world that's the very opposite of Potter's…real, serious, heavy, meaningful, and yes, adult.   But she went too far down that rabbit hole and abandoned some of the elements that have made her previous works so enjoyable.  Here, the pacing is slow, the plot thin, the characters unlikable, their world mundane, and the "moral" sophomoric. Selflessness = good. Self-absorption= bad. Thanks, we got that.
I agree with this New York Times review, the book would have been twice as good if it was half as long.  
Have you read The Casual Vacancy? I'd love to know if you agree with my assessment!