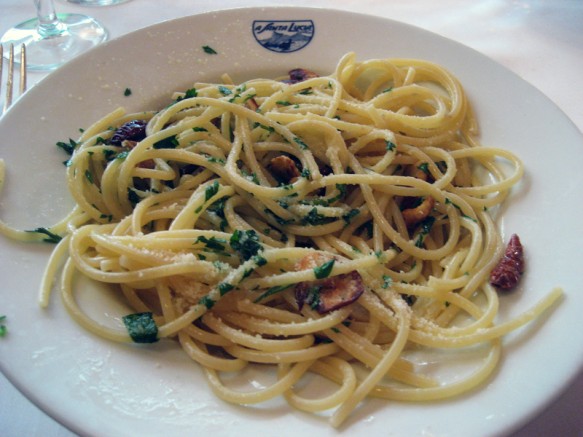 A Taste of Milan
Fashion forward Milan may be a shopper's paradise, but it isn't the easiest city in which to find the perfect Italian meal. Even well-known travel guides like Frommer's have only about a dozen restaurant recommendations, surprising for a city of this stature.
There are a few dining options around the Duomo, which is the main cathedral and one of the city's chief attractions, but they all feel overly touristy.  Fortunately, we had a friend in the know who recommended A Santa Lucia, and it has now one of our favourite haunts in Milan.
The Duomo, Milan, July 2012

Photo credit: Sam Jacobs, crabapplenyc.com
Tucked away onto a side street right off the shopping strip of Corso Giacommo Matteotti (and close to the Duomo and Galleria), this old school Italian restaurant first opened its doors in 1929.  The décor has not had a face lift since then.  Plain white table cloths cover the same tables and chairs that were there over 80 years ago. 
One thing that has expanded is the 400 signed celebrity photos that litter every inch of available wall space.  What's good enough for the likes of Josephine Baker, Frank Sinatra, Marcello Mastroianni and the who's who of Italy, is good enough for us!  
High-falutin' clientele aside, the food speaks for itself.  We come here for classic fare, like the pasta all'aglio e olio e peperoncino – garlic, olive oil and hot peppers.  Simple yet sublime.  The Bolognaise is also delicious. 
There are plenty of mouth-watering "secondi" dishes as well, like the Escalope Milanese, also known as veal scallopini.  When in Milan, right?  Wash it all down with a glass of Pinot Grigio and you're ready to hit the shops!
One note, the white jacket clad waiters can be a touch brusque, especially if you try to sneak in a late afternoon lunch. (The restaurant is closed from 3pm to 5pm.)  Good Italian food is serious business.

Photo credit: Sam Jacobs, crabapplenyc.com

Photo credit: Sam Jacobs, crabapplenyc.com

Photo credit: Sam Jacobs, crabapplenyc.com