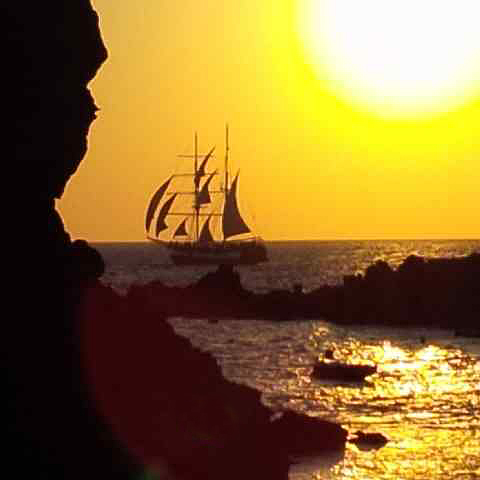 Paint the sky
It's true what they say about the sunsets in Greece. They are the best in the world.

Ok, so I haven't been everywhere in the world, but I've been to a lot places. Over several decades I have seen hundreds (thousands?) of sunsets from points far and wide. No doubt about it, this one beats them all hands down.
It's the sunsets in Santorini to be specific.  Like a giant, free-range egg yolk sinking from its own bulging weight into the horizon. It makes me hungry for an omelet.
Sunsets in general are mesmerizing and inspiring to be sure, but that they are fleeting and we make such an effort to get a glimpse before it's gone is an encouraging sign of the romance of the human spirit.  We're watching from a boat here in Santorini and spent a couple of hours getting to the best viewing spot.  Along the shoreline, I can see people young and old — families, couples and singles — all scrambling for a good spot to savour the moment.
For me, it's my favourite time of day; twilight.  That moment between day and night. Ending and beginning.
Accurately describing a sunset is impossible and even a picture doesn't tell the whole story. I'm even reluctant to take too many shots because I don't want to miss a second with my own eyes.
Wherever you are this summer, I hope you're enjoying the sunset.
Be sure to share with us your best sunset shot with a location.  Enter our Black's Camera & Wall Art Giveaway! (August 21-September 21, 2013).