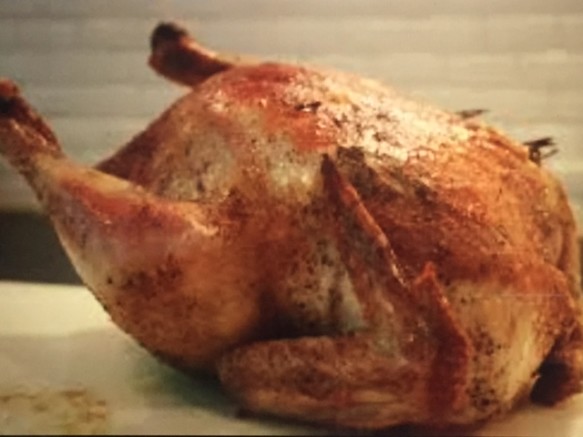 Perfect Roast Chicken
If you ever want to win me over, make me a roast chicken. For me, this simple dish perfectly straddles the line between comfort food to be inhaled alone while wearing fat pants, and classical fare suitable to serve to even your foodiest friends.
Sadly it is a dish so often done wrong. I think we as home cooks can be so concerned with undercooking chicken that it comes out dryer than dry. What a waste!
But making a perfectly cooked, succulent bird is so easy even the novice can pull it off. You'll almost feel guilty for how little effort you put in for your guests. Unless you're cooking it just for yourself, in which case you'll pat yourself on the back while eating it standing up at the kitchen counter, juice dribbling down your chin, because you just couldn't wait to sit down. (Hello, that's my Friday night!)
Here's all you need to make it happen: One chicken, (about 3 pounds), one lemon and Kosher salt.
Now here's what you do: Preheat oven to 450 degrees F. Rinse and pat chicken dry. Be sure to wipe inside and out, because it'll brown better and the meat will be juicier if you do. Now salt inside the cavity and all over the outside. Roll the lemon on the counter to release juices, then poke a few holes all over it with a knife. Insert into cavity of chicken. Tie legs together with kitchen twine. Bake on a rack in your roasting pan for about 50 minutes or until a thermometer reads 165 F. (Make this dish enough and soon you won't need a thermometer. You'll be able to eyeball it from the way the skin is pulling back from the ends of the leg bones and you'll feel it when you wiggle a drumstick. Feels loose.)
Let rest for 15 minutes and carve.
Serve it with a leafy green salad and maybe some pan seared brussels sprouts and you're good to go. And of course chicken is so versatile this dish goes equally well with red or white wine. (A white Burgundy or a Syrah, to be precise.)
And if you make me a chocolate cake as well? Well then you've got a friend for life. What time should I be over?
Happy weekend everyone!