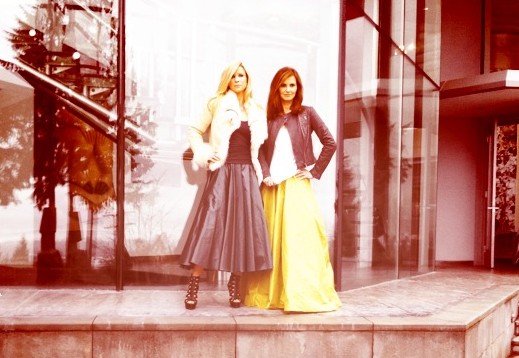 Photo shoot fun
Last week we had a full-day photo shoot to get a cache of photographs for publicity purposes. We were fortunate enough to get the chance to play dress-up with some fabulous clothes pulled by stylist extraordinaire, Tracey Pincott, and her assistant Leanne Trigg.
Also on the scene that day were set decorator Tink and his assistant decorator/food stylist LaVonne Girard, who helped create this messy kitchen, not that we usually need help in that regard!
One turkey, a few marshmallows and a dozen crème brûlées were harmed in the process. But we tried to retain some grace under pressure in these dresses supplied by Ports 1961 (above) and Holt Renfrew (below).
After lunch it was time to get out of the kitchen and into full glamour mode, featuring a selection of looks that we shot at a beautiful West Vancouver home. Thank you to the owner who hosted us and gave us full reign.
We shot this one below in front of a fabulous piece by Gordon Smith, Anna in D&G and me in Prada, courtesy of Holt Renfrew. Can't wait for sales season as I hope to be able to nab this number; it's the perfect LBD.
We wore these divine pieces by Lanvin, provided by Bacci's in Vancouver. Such beautiful workmanship and fabric, we didn't want to take them off!
Halfway through the day it was time to take a breather, in our floor length gowns, of course!
Thankfully the rain stopped and we were able to head outside by the pool in these amazing poofy skirts by Canadian evening wear designer Catherine Regehr. The jackets and shoes were our own.
These particular photos were taken by our hair and makeup artist Jessica Styblek. Once again, thank you Jessica for your magic touch!
But the true maestro of the day was photographer Jonathan Cruz (with help from his assistant, Deo Cruz). We have worked with Jonathan few times in the past and, as usual, it was a real pleasure. Jonathan, you make everyone look good!
Thank you everyone for such a fun-filled day.
A & K