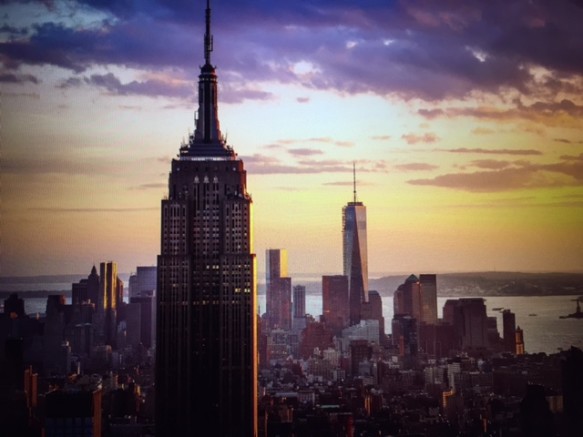 Time to Kill….in (sweltering) NYC
A recent getaway to NYC was an opportunity to update my list of must-dos for the Big Apple. It is a list that I am constantly curating and since so many New Yorkers leave the city to beat the sweltering heat, the summer is a good time to return to continue my ongoing research. If you plan on heading there any time soon, read on for a few dos (and one don't.)
Stay
The NoMad hotel is my new favourite place to stay. Perfectly situated at 26th and Broadway in Midtown, getting up, down and all around town is convenient. Rooms are a good size, especially for New York, service is exceptional and best of all there's a buzz to the place. Be sure to have cocktails in the bar. The restaurant is also worth a visit whether you're staying here or not.
See
The Curious incident of the Dog in the Night-Time is the multiple Tony award winning theatrical interpretation of David Haddon's 2003 novel. Having loved the book, I was curious as to how this would play out on stage. I'm pleased to report it was one of the most creative approaches to story telling I've ever seen.  Don't miss it.
Eat
Eating and drinking are a big part of any holiday for me. And that means I make an effort to visit world renowned restaurants whenever I get the chance (and can score a reservation.) To that end, Eleven Madison Park has been on my list for some time. This was the weekend I finally went. EMP is a big deal in the world of restaurants and was recently rated #5 in the world. I wasn't about to miss my chance.
This was eating on a whole other level. While I don't usually choose a tasting menu, there was no choice here. It was like the haute couture of dining. Some dishes didn't even look like food but rather works of art that I wanted to take home and hang on my wall. I'm sorry that I didn't take any pictures, but it didn't feel like the right thing to do in the moment. Plus it was dark. And maybe I was trying to be cool.
If you go, ask for a tour of the kitchen. That alone made this one of the most memorable restaurant experiences of my life so far. Watching chef de cuisine Chris Flint in action was like watching a musical conductor. Calm, focused, decisive. The place hummed along in perfect sync. You wouldn't believe it was 9pm on a Saturday night and they were in the midst of serving dinner to a room full of guests! My kitchen has never been so clean.
The food was other worldly. I wish I could have all of the dishes  in front of me now so I could enjoy (and deconstruct) them again on their own and without distraction.
And here's a tip: If you can't get a reservation, try stopping in and inquiring about a seat in the lounge. Chances are good you'll get one and you can eat off the a la carte menu.
If you go, and you should if you're into what's happening in restaurants, don't forget your wallet.
For something more laid back, approachable and lighthearted have lunch at Santina in the Meatpacking district. It calls its fare "coastal Italian" but as far as I'm concerned it's a little bit Miami, a tad Havana and a whole lotta fun. Order a few rounds of Basil Bellinis. Food is really good and its very easy to lose track of an afternoon here. Great people watching!
Getting Around
By foot is my preferred method in New York. But this girl isn't always in flats and it was indeed over 40 degrees during my stay. A few good alternatives are the Citi Bike program (you can rent a bike at any convenient location and drop off somewhere else) or the subway, which is super easy to use if you're not going far and much faster than a taxi – which is my least favourite method. I use Uber whenever I'm in the US. The cars always arrive fast, there's no need to fumble for cash and the cars are cleaner. It's a no brainer.
If you're really desperate you could hire a pedi-cab and while the breeze is nice I don't recommend it. The pedi-cab is outrageously expensive at five US dollars a minute. With today's exchange rates that's an exceptionally bad deal for Canadians. I was barking at my "driver" the whole way to hurry up. I could have hired a limo for less.
Ah well, its all in the name of research!