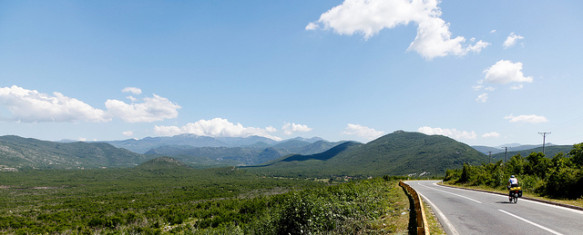 Travelling off the beaten path
Going through some boxes this week I came across some old photos of a trip I took many years ago to Israel. It made me recall some great times traveling the globe, before the task of traveling itself became onerous. (Like when airlines served meals on china to people at the back. Can you remember those days?) It also reminds me of some of the absolute dives where I have stayed. Whether it be a seedy hostel or roadside motel while driving across the country, I have laid my head at some dodgy establishments. That's part of traveling in your twenties and I wouldn't trade it for anything.
But the world of travel accommodations has come a long way since then and the new era isn't just for kids with backpacks.  
On a recent flight to Paris, the man sitting next to me was in his 60s and off to ride his bike around Europe for 6 months.  His lodging itinerary was made up entirely of arrangements he'd made in advance to stay in strangers' homes.  I don't mean the bed and breakfast set up, which is a bit more formal, but rather crashing on a stranger's sofa, having a hot meal and hot shower, and being on your way.   All for the price of whatever you feel like leaving: say 10 or 15 bucks.  He did it more to meet interesting people and understand different cultures than as a way to save money (although that part isn't bad either, of course).
Personally, I've never liked the idea of a B&B.  I just don't find the experience of staying in someone else's house and having to socialize over breakfast enjoyable. I like to read my paper in silence. I don't want a three course meal with blueberry muffins and making small talk with a stranger first thing in the morning isn't my idea of a vacation.
Fortunately the new era of hotelery offers something for everyone.  Whether you want something cheap, something to yourself, or something homey, if you don't mind being surrounded by other people's stuff, check out some of these property rental sites for your next vacay.  It's an interesting and usually cost effective alternative to a traditional hotel. And if you're really smart you'll rent out your own home at the same time to help pay for your trip.
This site alone has changed the way people lodge when they travel. It's a fast-growing Silicon Valley start-up company with listings in hundreds of cities around the world, at every price point.  You as the owner sign up your property and airbnb serves as the directory and facilitator (taking a cut from the rental price).  Whether you're the renter or the rentee, be sure to do your research; read reviews and be aware of your risks, rights, and obligations.
See above!
The Warm Showers community is a free, worldwide service designed specifically for touring cyclists.  There's an interactive map to let travellers find hosts along their route; a way to share stories with like-minded people and get a good night's sleep before getting back on your bike.  Now that's commitment to the sport.
Have you got any other tips for finding unique accommodations or travel ideas?
Top photo: Yodod/flickr