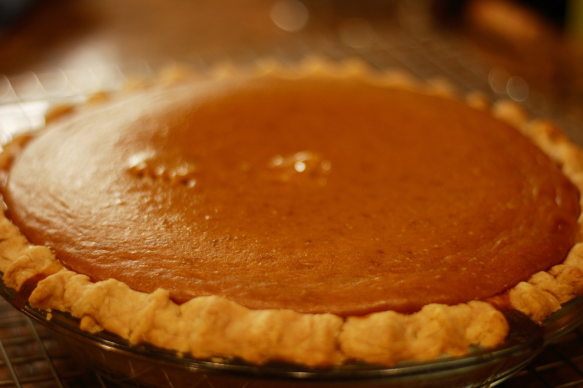 World's Best Pie
Screw cultural norms that say certain dishes should only come along once or twice a year, this pumpkin pie is so delicious it deserves to be made all autumn long!
Over the Thanksgiving weekend a girlfriend had me over for a traditional meal with all the fixins.  When we got to desert she set down a plate before me with a slice of pumpkin pie the likes of which I'd never seen before.  There was something about it that looked different.  And when I tasted it, oh my my my, it was sublime.  The perfect blend of sweet and savoury.  The texture wasn't as dense as other pumpkin pies and it had a rich authenticity to it.  I closed my eyes and I felt like I was transported to a time when things were done differently.  Turns out this recipe is a cherished family memento.  Written by her Granny on a dog eared scrap of paper, it calls for using fresh pumpkin.  Most recipes call for canned, but I guarantee you using fresh creates something much more delicious.  It's worth the effort.
Pumpkin season starts as early as late August in some parts and runs until the end of this month.  So I say, when you can make a pie like this, why limit it to Thanksgiving?  While the kids are out Trick or Treating you can be tucking into a slice of heaven from the pumpkin patch.  Pour yourself a glass of Port or a Riesling and it gets that much better.
GRANNY'S PUMPKIN PIE
Filling:
2 cups mashed pumpkin (1 pumpkin is plenty)
2 tbsp. flour
1 1/4 tsp. ginger
2 tsp. cinnamon
1 1/2 cups sugar
2/3 tsp. nutmeg
1/4 tsp. mace
1/4 tsp. salt
3 eggs
1/2 cup milk
Remove rind from pumpkin and cut into chunks and cook in a saucepan over medium/low heat until tender,  then mash.  A little water in the bottom of the pot to start prevents the pumpkin from burning.
Mix filling ingredients well and pour into unbaked pie shell. (Granny never shared her pastry recipe, but those are easy to find online) Bake in a "moderate" oven until done.   (That's what the recipe said but we figured out that it is a 350 degree oven for about an hour)  
The quirky thing about this recipe is that the above will provide filling for about one and a half pies, so it's best to double it (which makes 3 whole pies). Trust me people will want seconds and you can give one away to someone very very special.
Thanks to my friend Leslie for sharing.  Happy Halloween everyone!!
[Top photo credit: This is not the pie I ate, but this is a pumpkin pie made with real pumpkin from Brownies For Dinner]